Until I was writing today the cheapest Samsung Galaxy S4 deal on the market is now from Tesco Mobile shop. On their website there is a section for pre-ordering Galaxy S4 the super fast and high tech phone featuring 2 GB of RAM and a quad-core processor and an amazing display.
Before we go to the deal details we need to know that Samsung is in trouble with the production of Samsung Galaxy S4. They have more interest than their production quantity. Samsung did not realize that they would get that much response about their new product Samsung Galaxy S4. So, not everyone is getting it early, customers have to wait to get it in their hands.
There is another issue with the Samsung Galaxy S4 that is coming to UK. It comes with a Qualcomm Snapdragon Quad-core 1.9 GHz Karit 300 processor and Adreno 320 graphics processor but for USA it is different. They are getting more out of a Galaxy S4. Samsung will distribute Galaxy S4 in USA with Samsung's most exotic Exynos 5 Octa 5410 processor in which you get a 1.6 GHz Quad-core Cortex-A15 and Quad-core 1.2 GHz Cortex-A7 processor and PowerVR SGX 544MP3 graphics processor. Even among these two of the Galaxy S4 variants UK version is bit slower than the USA one.
Now with the deal, you have to pay a minimum of £30 a month for 24 months and you get the Phone for free. You will get 250 minutes, 5000 texts and 500 MB of internet. I know that not everybody is looking for these kind of deal with less minutes or internet. But if you are looking to get the phone only you get minutes, text as a bonus at the end you pay only £720 in two years time.
If you are willing to pay some extra for more minutes and internet there is another part of the cheapest Samsung Galaxy S4 deal as well where you can pay £35 per month on a 24 month contract. On return you will get boost in minutes and internet allowance per month. You will get 750 minutes and 1 GB internet to use per month along with 5000 texts. Still less than the deal from Three UK or any other UK networks if you want to go for the £30 monthly deal with Tesco Mobile.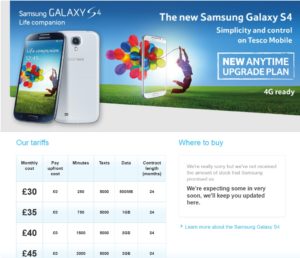 So, if you are looking for the cheapest Samsung Galaxy S4 you can go for this, but do not expect an early delivery date as they are saying on their site that they didn't get enough handsets that they asked for. Some customers will have to wait until Tesco gets the phones back in stock.