Komodo, the pioneer of decentralised cross-chain Atomic Swap has released their new version of mobile AtomicDEX (Decentralised Exchange) for public beta testing. The app also works as mobile wallet using SPV (Simple Payment Validation) servers for listed coins. They have been working on mobile first approach this year for this flagship product and have been conducting closed beta testing. Many projects are working on decentralised exchanges (DEX) for the last few years and none of them has a true DEX product yet with the exception of Komodo. Users are losing trust over centralised exchanges (CEX) due to limitations, hack, loss of funds, bankruptcy, government regulations and KYC implementation etc.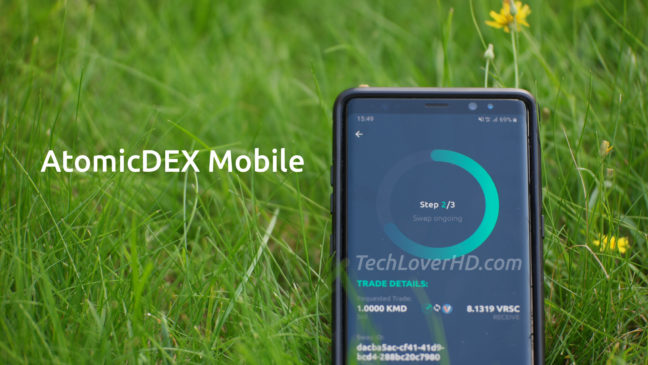 Komodo's AtomicDEX has come a long way since the initial version InstantDEX in early 2016 and BarterDEX development in 2017. The visionary lead developer James Lee a.k.a. jl777 used Tier Nolan's method and made it a success. Now, this is their 3rd generation version which is still under heavy development to make it better. Currently works pretty well and easy to use compared to previous generation. The public beta testing is currently available for Android and iOS users. Download link is available at the bottom of this page.
Benefits of Using AtomicDEX
The AtomicDEX Mobile app works with 3G/4G internet or over WiFi reliably. Some users also reported it works with TOR as well. Here are few key points why AtomicDEX is the future:
Decentralised (no control from any authority)
You are in control of your funds
No KYC (know your customer)
Easy to use
Cross-chain Swaps, any coin to any coin of your choice
About 0.15% exchange fee for the taker only
Maker doesn't pay any fee (encourages more liquidity providers)
No blockchain database download necessary, using SPV servers
Create buy/sell orders
View orderbook
Biometric login feature on AtomicDEX mobile
List of Supported Coins on AtomicDEX Mobile
Currently there are only handful number of coins listed for beta testing of AtomicDEX Mobile. The main source code (via command-line) allows a lot of coins.
Komodo (KMD)
Bitcoin (BTC)
Bitcoin Cash (BCH)
Ethereum (ETH)
Litecoin (LTC)
Digibyte (DGB)
Dogecoin (DOGE)
USDC (USDC)
Basic Attention Token (BAT)
QTUM (QTUM)
VerusCoin (VRSC)
RedFox (FROX)
DASH (DASH)
RavenCoin (RVN)
ChainZilla (ZILLA)
Rick (RICK) – testcoin
Morty (MORTY) – testcoin
Important Notes
Never share your seed or private key with anyone
Always backup your seed securely offline (i.e.: write it down in a piece of paper)
Never store your seed on any device that is connected to internet
Never take picture or screenshot of your seed with mobile phone that is has internet connection
Never trade with your main account with funds
Always create a new account (seed) and send funds there for trading
DEX fee is non-refundable, even if the swap doesn't complete
If a swap gets stuck in the middle and you are due a refund, wait for minimum 4 hours for auto-refund to work
Support is available at Komodo Discord, you can also share your feedback there along with suggestions or improvements
The app is under development and will be updated regularly, always make sure to use the latest version to avoid any issues
You are always responsible for your own funds
Download AtomicDEX Mobile
Get the AtomicDEX Mobile app in your phone. Perform some swaps and help the team to make it better.
Android: You can download and install from Google Play Store directly using this link https://play.google.com/store/apps/details?id=com.komodoplatform.atomicdex or search for "AtomicDEX" in your Play Store app on your mobile.
iOS: Get it from here https://testflight.apple.com/join/c2mOLEoC . You need Apple TestFlight app installed to download and test this app.
If you find this article helpful please show us some love by sharing it with your friends. You can also donate any KMD or smartchain at this address RG839yyK53NSJMsVURNZm95YkVpjYxNoob to help us keep going.