Lenovo is a Chinese electronics manufacturer who has released nice quality smartphones for a cheap price. One of their best & incredibly cheap Android smartphone is ZUK Z2. The phone comes with amazing specs which has Snapdragon 820 Processor, 4GB RAM, Fingerprint Scanner, 5.0″ Full-HD screen & 64GB internal storage. Running on Android 6.0 with planned upgrade to Android 7.0.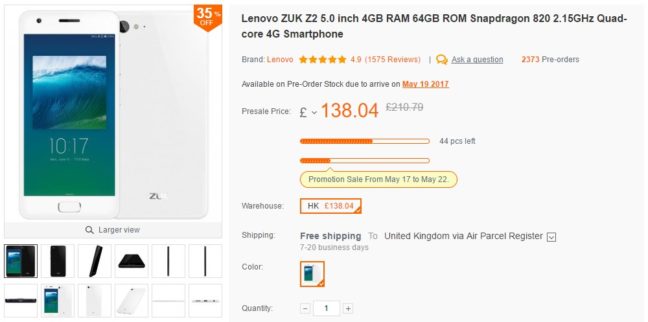 The Lenovo ZUK Z2 has been on sale from various Chinese websites less than £150. I ordered the white one from Banggood.com for £146 and arrived without any problem. The current price is £138 with some promotions going on. Black color is not widely available and bit more expensive. One of my friend went to China and wanted to get the black color. He got it but, it was hard to find and had to pay more for the color. Ebay and other places are selling this phone over £200 in the UK.
ZUK Z2? Why?
It's all good at this price range for a smartphone like this. ZUK Z2 offers some great specs that you would normally see coming from big manufacturers like Samsung, LG, Sony etc. The phone also has plenty of good reviews everywhere. Read below for more detailed specs and features.
Body & Display
ZUK Z2 comes in normal size with 5.0 inch Full HD LTPS Display with 441 pixels per inch and 400 nits of brightness. 2.5D glass gives a smooth feel and makes the display bit more stronger. Generally every Android phone comes with at least 3 buttons (Home, Recent & Back) in the front for navigating and using the phone. I was surprised not to see the Recent & Back button on the phone. Instead, all the functionality placed on the fingerprint scanner / home button. That is the only button you get. Apart from unlocking the phone, this button does take you back, show your recent apps / games and takes you to your phone's homescreen. Comes in 2 colors, black & white. As I said earlier the black version is bit hard to find. This is not the thinnest phone in the world but fits perfectly in your hand.
Camera
ZUK Z2 uses Samsung ISOCELL 13MP f/2.2 camera at the back which has PDAF (Phase Detection Auto Focus) and CAF (Continuous Auto Focus) dual AF. The auto-focus is blazing fast with 0.1 second and correct most of the times. The camera also records 960 FPS (frames per second) slow-motion video along with 4K video capture and HDR. The front has an 8MP camera for selfies.
Processor, RAM & Storage
Qualcomm Snapdragon 820 14nm Kryo 64-bit Quad-core 2.15GHz processor is running with 4GB dual-channel 1866MHz LPDDR4 RAM inside ZUK Z2. Same processor used vastly in last year's flagship phones by different manufacturers. The 64GB eMMC 5.1 built-in internal storage gives you a lot of storage for your pictures, video, music and other files. One downside is you can not expand the storage with a microSD card.
Connectivity & Sensors
The phone takes 2 SIM cards and both of them are active at the same time. It's all in 4G, also supports VoLTE (Voice over LTE). Mobile network Three in the UK supports VoLTE feature on some phones which gives you better call quality than 3G. There shouldn't be any problem using 4G on ZUK Z2 worldwide mobile networks as it covers most of the frequencies.
Z2 has USB Type-C for charging and other connectivity options but it is limited to USB 2.0 speed. The phone has dual-channel WiFi 802.11 a/b/g/n/ac, Bluetooth 4.1 LE. Also, a 3.5mm headphone port for external microphone / headphone.
Among the sensors, the phone has Proximity Sensor, 3-axis Gyroscope, 3-axis Electronic Compass, 3-axis Acceleration, Ambient Light Sensor, Hall Sensor
Battery & Weight
Lenovo ZUK Z2 is equipped with 3,500 mAh lithium-polymer (Li-Po) battery with fast charging. Not bad at all compared to other flagship phones out there.
With all these things the phone weights only 149 grams which is not a heavy phone in hand.
What's inside the box?
The box contains a Lenovo ZUK Z2 phone, 1 USB Type-C cable and 1 US model wall charger. They do not include in adapter plug for the charger.
You can buy it online on various websites. I have bought mine from Banggood.com. ZUK Z2 is the best phone out there under £150. Shipping is free but takes at least 2 weeks to get the phone. But, the waiting is worth of it.
Let us know if you already own a ZUK Z2 or planning to buy it.