Lookout mobile security for Android found 32 malware in Google Play Store yesterday. The malwares were targeted for Russian users and written in Russian language. These apps contains a fake ad network and asked users to install free apps which is basically malware. Lookout is calling it "BadNews" which was installed on Android devices over 2,000,000 times. The number of Virus and Malware is increasing on Android platform. Google removed 32 apps from Play store already.
Mobile advertising is a profitable platform for the Developers to earn money from. They can provide the app for free and getting back the cost from the ads.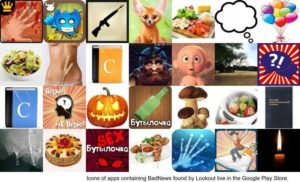 If you think you might be affected you can install Lookout for Android from Play store. And of course, scan your phone / tablet immediately.
Staying Safe
My advice to users will be not to click on any advertisement until you trust the application. Download and install through Play store and I know its boring but it is better to check the permissions of the applications you are installing.
Apps require different kind of permission to work properly on your phone. If any permission on any app doesn't look good to you, means, if you find something suspicious try to look for information about the app on web. Go through the app reviews and check the comments that other users made.