Google I/O 2013 commenced today at 9am PT in San Francisco, and was streaming live on Google Developers YouTube channel, we were watching it live from here on our Google I/O 2013 Liveblog streaming page. Google announced a lot of things and improvements. Updated a lot of apps and services both for Android and Chrome. Google has focused on Developers basically and the people of course, and how to make the user experience better and easier.
While everything was happening Google wasn't only doing the conference they were doing their work too, almost with live. Google updated their Android app Google Music, Google Maps, Google Search on Play Store this afternoon while I/O 2013 going on.
Device: No new device was announced today except Google is going to sell Samsung Galaxy S4 from Play Store, and it will be coming as bootloader unlocked and the users will get prompt Google update. Google is offering it for $649 in the US. This is going to be the first phone Google is going to sell which includes a microSD slot. Are you feeling lucky? Google says this is a great device and running on Android Jelly Bean 4.2. There was no word about Motorola X or Nexus 5.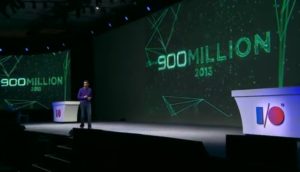 Android: We didn't hear about any major Android update, much about the app developers and earning money by developing apps. They talked about the content in different displays and devices, how does it work and how to integrate. They were talking about enhancing the web experience for the users and a lot. Shame that they didn't talk about Android a lot, I mean no hints about Android 4.3 or Android 5.0 Key Lime Pie yet.
Chrome: Chrome is another OS for Laptops, Desktops or on portable devices from Google. Chrome has got more enhancements and got polished. All the participants are getting a Chrome Book.
Google Play Music: Google Play Music is upgraded as well, they recently bought the music streaming app Spotify. Google is now offering unlimited subscription for $7.99 a month in USA exclusively for I/O and they will normally charge $9.99/month.
Money Transfer: You can send money to anyone as an attachment in Gmail, Google now made it easy to send money from Gmail using your Google Wallet. Just set it up now if you have any Google Wallet account setted up.
Multi Platform or Device Sign In: Google gives you the pleasure to sign in Google ids to different websites or apps. Using this sign in, users don't need to create an account every time they want to use a site or app that requires a account.
Google Games Hub: Google made it official today with that Android & Chrome is getting a Game Hub. New and of course with a lot of exciting features. Cloud Save feature enabled now, users can save their game progress and start from there in another device and play the game. The scores are stored on the cloud and there is leader board and global leader board. You can see your progress and compare with your friends.
Improved Google+: New and improved Google+ is going live today afternoon as they were saying it on the Keynote. This will be a better version of current Google+, enhancing your image quality, auto hash tag, skin touch and a lot of more things. With Google+ on your phone your pictures gets uploaded to the web automatic, the new Google+ can suggest you nice and brilliant pictures to share with your circles or friends. You can do voice search on Google+ now, answering with nice voice result and now you can rearrange your homepage as you like and you can search deep into Google+.
Maps: A new version of Google Maps going live, Google is accepting preview invitations, if you want to get one sign up for Google Maps previews here. Plenty of improvements in the new Google Maps, you can see the clouds around the world in real time with the Maps in a desktop. Location settings, battery consumption improvements, now it use less than 1% battery in 1 hour on Android devices.
Hangout: Google released a new app called Hangouts in the Play store today, it replaces or deletes the Google Talk app from your phone. This is the new version of messenger for Android devices with improved and more advanced features.