Sony UK just announced Sony BRAVIA X9 series TV with 4K X-Reality PRO technology up for pre-order form their website. BRAVIA X9 is coming with two different screen sizes, 55″ & 65″, perfect size for a living room and it will definitely transform your living room by delivering Ultra HD 4K resolution for any of your content. Whatever you are watching, whether from YouTube, Blu-Ray, TV Shows or from any source the TV will up-scale the content to 4K, it is an amazing experience with the highest resolution of 3,840 x 2,160 pixels with 16:9 aspect ratio.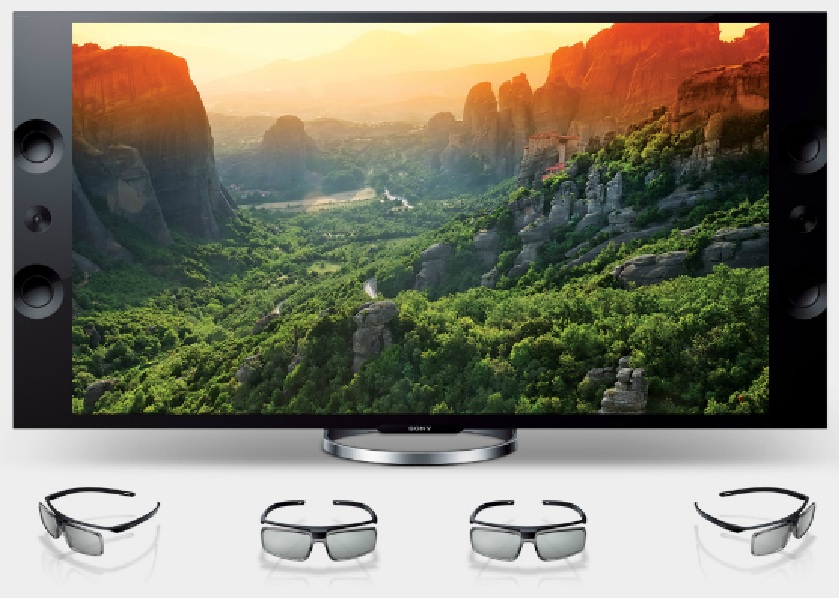 Model Number of the TV is KD-65X9005A, you can pre-order from today, the high street retailers will get it from mid-June letting you buy it from shops from June. Sony just made a revolution in resolution in display to give you the full detail and viewing experience. Sony BRAVIA X9 is equipped with two 65W front-facing speakers, TRILUMINOS display and wireless smartphone mirroring technology.
Both of the model coming with passive 3D technology included, letting you use any passive 3D glasses which you can buy for a very cheap price anywhere; this is the type of glass you use in the Cinema to watch 3D movies. This TV actually gives you full support of 3D upto 2K only. Display type is LCD, Backlit LED makes it a LED TV, consumes less energy and certified by Energy Star.
You can use this TV to watch network contents and this smart TV lets you use Skype, Twitter, Google TV, Opera Apps, TV SlideView, Sony Entertainment Network, Internet Browser and other apps are installed. To use the internet and view your social network activities there is built-in Wi-Fi with DLNA support. There is an Android app for this TV in the Play Store to manage your TV from your phone, and the best thing is this Sony BRAVIA X9 series TV has NFC built-in.
Sony is trying to get on with their TV with X9 series, Samsung is now ahead of them with display and resolution. LG is doing very nice 3D LED TVs. This TV would help Sony to get on line again, where OLED and Curved screen TVs are already on the way. Sony also fixed a price tag of £4000 for the 55″ and £6000 for the 65″. Bit expensive, isn't it?
You now can enjoy playing games in Ultra HD. Now-a-days tablets are coming with the capability of 4K HD output, just connect your tablet via a HDMI cable with the TV and your huge Ultra HD screen will turn into a beautiful and powerful computing device. Additionally you can use a pair of wireless keyboard and mouse to operate from anywhere in the room.