The ultra-fast & reliable UK mobile network Three introduced a new and cheap Pay As You Go SIM deal for its customers this week. The new price plan 321 gives the users the ability of 3p/minute for call, 2p for a text and 1p for 1 MB broadband. This new deal have slashed the price plan for all PAYG deals and now is being considered as UK's cheapest pay as you go SIM deal for customers.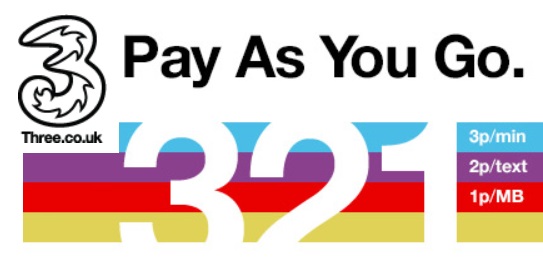 Are you new in the UK and looking for a cheap pay as you go SIM only deal? Finished your long term pay monthly contract and don't want any more lengthy contracts? Don't want to tie yourself up with any contract and want to use pay as you go SIM? Three 321 might be the right choice for you at the moment. Other networks are charging more and more than this price plan in the UK.
The network is growing fast among their competitors and gaining trust of the customers. Most of the customers love their AYCE (All-You-Can-Eat) data plan for monthly paying contract deals, without worrying to get over the limit. There is no limit for Three UK networks internet using plan. But these are the features of pay monthly deals.
You can order a free pay as you go SIM from Three UK website and top it up when it arrives. Alternatively you can order a free SIM with £10 top-up on pay as you go 321 deal. So far, I can say this the cheapest pay as go SIM deal on the market right now.