Google Chromecast – recently announced and released in the US for $35. Chromecast is a device which you can connect with HDMI port of your big screen TV, you can view YouTube & Netflix videos on it. Streamed directly by the dongle using its built-in WiFi which connects to your router. Google has made it cheaper rather than its rival on this type product Apple and Roku. This dongle will work with devices from different platforms; Android, Windows, iOS and Macs, to be precise. With limited functionality on some devices. Your device will work as a remote and will play your YouTube video on your TV automatically. You can cast your Chrome tabs to the TV as well.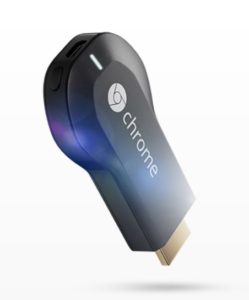 This is an amazing HDMI dongle with a lot of potentiality in a very cheap price. Users will be getting more support from the developers. Some of them already started doing mods, apps, functionality. A lot things you will be able to do with this little device. The genius developer who is widely known for his ClockworkMod Recovery and some other great apps, Koushik Dutta has already started working on Chromecast. He already build an app to share your Gallery content on TV. The app is not published yet. He has posted a teasing video of his proof. He recorded and played the video with his HTC One in a TV. Air Play kind of functionality. Koush is now working to add music and picture to cast. By the time it will release by him we will see some more functionality and improved version of his work like always. Thats the update about the device development.
Chromecast Specification
Now, name of the device is Chromecast but the device is not running Chrome OS in it, but Android. The specs of Chromecast is not that bad actually for the price. You get quite nice things in it technically. Chromecast is running on a Marvell DE3005-A1 system-on-a-chip with 512 MB of RAM and 4 GB internal memory. It has got built in Azure Wave AW-NH387 802.11 b/g/n WLAN and Bluetooth module. You get an LED indicator and a USB port to power it up. It is better if you have a spare USB port on your TV near the HDMI port. So you can power it up easily.
Chromecast works flawlessly across different devices and OS. You can manage the Chromecast dongle with different devices and they will sync automatically while you are playing it. You can tap the cast button any time to start watching it on TV.