Motorola now has a confirmed date for the most leaked and hyped Moto X smartphone. They will be holding it on 1st of August in New York. But today the official press image leaked through TheUnlockr. There are some confirmed specs as well about this Moto X smartphone from Android Police.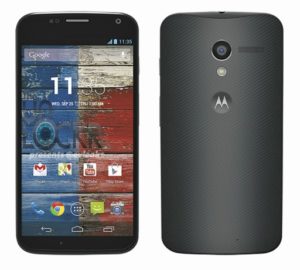 This is going to be a budget phone and maybe targeted for the masses. A mid-range phone carrying the same specification too and affordable to buy. This is not going to be a high-end phone at all based on all the leaks and infos from the past few months once it started appearing.
Moto X (XT1058) – Specs
This Android 4.2.2 running Moto X is coming in a 4.5″ (inch) 720p display with the resolution of 720×1184. There is a dual-core processor inside instead of the rumoured quad-core one. The processor is Qualcomm S4 Pro MSM8960DT  dual-core 1.7 GHz speed with Adreno 320 GPU. But to keep up with market for the amount of RAM they put 2 GB of it, I guess.
2 cameras, 10.5 MP at the back and a secondary 2.1 MP front-facing camera. Hopefully they both can record 1080p video. Moto X will be coming in with 16 GB internal memory inside where about 12 GB is user accessible. The device model number is XT1058 and device name is Ghost.
As we already know about the Moto X, its built with plenty of sensors. The smartphone will be aware of the places and circumstances and will behave / react based on that. It will make you feel comfortable to using it or pick it up. We can expect Android 4.3 soon after the release of this phone. There will be a microphone always on to take your voice commands. And this X phone is coming a highly customizable back and a lot more features.
It will be available only in USA at the moment without any news for the rest of the world. This Moto X phone will mark in USA history to have their own smartphone made in their country.
Final Thought
The Motorola Moto X is Motorola's first smartphone under the supervision of Google. The first ever smartphone manufacture in USA. Just for your information, Google acquired Motorola and this is what you can say kind of Google phone. But not really a Nexus phone. Google might sell Moto X from the Play Store like they are selling Galaxy S4 and HTC One as Google Editions.
Credits
[Official Press Image:
TheUnlockr
] [Confirmed Specs:
AndroidPolice
]