The new Sky Now TV Box is on sale for £9.99 including delivery. This is the cheapest box in the market to turn your dumb TV into a smart TV where you can stream content from internet. You will be able to watch live channels as well with subscription for Sky Sports from Sky. But you don't need to have a Sky subscription to use this box. Only if you want to watch Sky Movies or Sky Sports.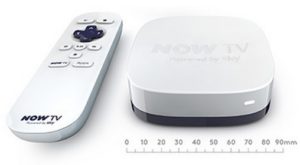 This cheap little box does a lot job for you and your TV. Now TV is a must have TV gadget to have if you are living in the UK and use the apps like BBC iPlayer and SKY News. Or Demand 5 from this media streaming box live or to catch-up with the old episodes. There are plenty other box or dongles in the market now but none is cheaper than this.
Apple TV, Roku are already in the market with a lot of users worldwide. Last week Google released Chromecast to compete with these devices in the USA for $35 which is around £20-21 still more than a Now TV box powered by Sky. But Chromecast is more powerful and potential dongle for more customization and usability.
And Sky Now TV is not bad at all. It comes with a lot of features as well. Sky put in the social browsing as well, supports Facebook. You will like it if you use Spotify. All the new Sky Movies will be there for you to watch if you get the subscription.
The Now TV box has built-in WiFi and will connect to your existing wireless network to connect online and stream content. You need to have an account for Now TV and get the device connected.
Specs of the Sky Now TV Box
The new Sky Now TV box comes with a built-in HDMI port but doesn't deliver Full HD 1080p output. The box can produce only 480p & 720p HD videos. Supports 16:9 and 4:3 aspect ratio. It has built-in InfraRed for an external remote control which comes with the box. You can use some other universal remote with the Now TV box, makes it more easier for you to control the device. The size of the Now TV box is 84mm x 84mm x 23mm and weights only 85 grams. And, it comes with an adapter which requires mains connection.
How to get one?
If you are interested in buying the device for your TV visit the NowTV website and order one.