LG Nexus 4 price dropped down for UK customers. The 8GB and 16GB version of the 4th Nexus got a 20% off. The new cheaper price is now live on Google Play Store. Nexus 4 is the last Google Nexus smartphone until now from November 2012. The new price of LG Nexus 4 smartphone is £159 & £199 for the 8GB & 16GB version.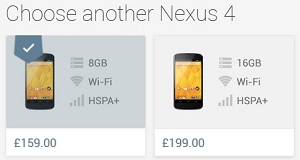 This price drop of LG Nexus 4 could mean something. Is Google announcing a new Nexus or Nexus 5 soon? Maybe in October/November? Google was selling this phone for £239 for the 8GB and £279 for the 16GB one. This is the cheapest price for the Nexus 4 phones sold yet. To me this is a bargain. Just bought a Galaxy S III mini for £187 off Amazon few days ago. But would be better option to go for this phone at this low price.
Nexus 4 comes with a amazing photo sphere camera and a glass back, for which many users complained. If LG is making the next Nexus we can expect another glass back phone. The screen size of this phone is 4.7″ just 0.07″ larger than the Galaxy Nexus and with a 1280 x 768 resolution WXGA IPS display. Qualcomm Snapdragon S4 Pro quad-core 1.5 GHz Karit processor, Adreno 320 GPU and 2 GB RAM makes it a faster and high end smartphone.
There are two cameras in LG Nexus 4. The main camera is 8MP and one 1.3 MP camera in the front. The phone was released with Android 4.2 but now upgradable to Android 4.3 Jelly Bean. There are plenty of nice sensors living inside this phone and nice wireless & connectivity options. This Android smartphone is powered by a 2,100 mAh battery.
All the Google experience with this high-end Nexus 4 device. As always any new update or new version of Android OS the Nexus devices will get first. If you want to get the updates fast from Google, you should go for a Nexus device. There are even more support for the consumers and a lot of options.