Pebble app for Android is the only solution if you have a Pebble smartwatch and an Android smartphone. The Pebble app on Google Play is free & only 5.8 MB and comes very handy with nice options to connect and manage the Pebble smartwatch. This app on your smartphone will deliver all the messages and notifications you need in your wrist.
Pebble released this great smartwatch this summer and sold like hot cake. They got more money from their KickStarter project than they expected. I'd say a huge success. If you have already downloaded the app on your phone just start it.
Pebble app ask to turn on your device's bluetooth if it's not already every time you open the app. For the first time you need to go to your Bluetooth settings on your phone and pair your watch. Once its done you can return to the Pebble app where it will show you if your device is connected. Once connected you are good to go.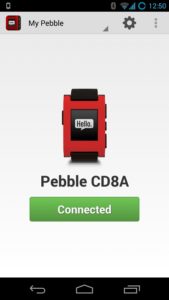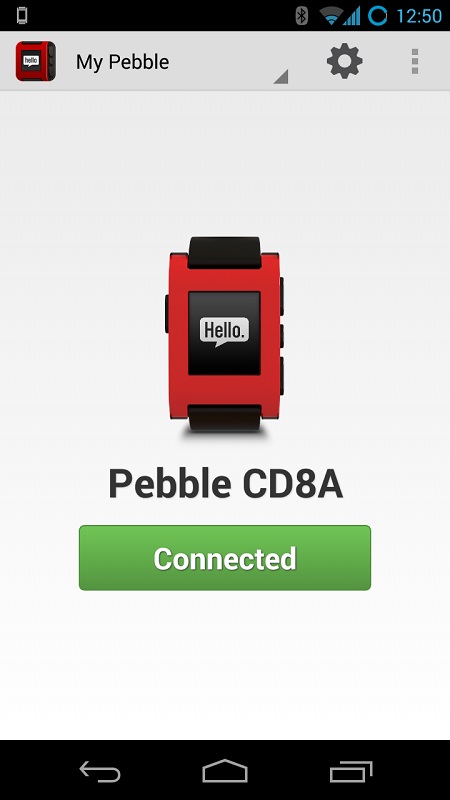 Next we need to configure the settings for the app and the watch. Just click on the settings icon and you can configure what you want from your watch.
The first settings option is Bluetooth, this will take you to Android's own bluetooth settings.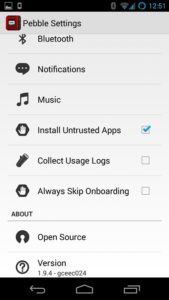 The second one is Notifications. Options for 3rd party notifications, incoming calls, SMS messages, Calendar, Email (Gmail), Google talk and hangouts, Facebook messages. You have option to either enable the services or disable them. If you have more than one Gmail account installed you can choose all of them or to get notification from some selected accounts.
If you click on the Music settings it will bring you the list of music apps that the Pebble app supports and installed on your phone. You can choose the music app you use most. And there you are, change tracks while your phone is in your pocket.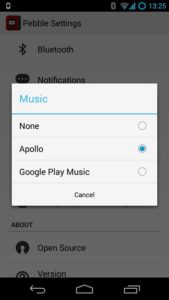 Some other settings are present there. Like, option to 'Install Untrusted Apps' which is important if you want to install app which is from 3rd party. I enabled this on my one but do it on your own risk.
Pebble App – Install Watch Apps
From Pebble app click on top left where you see 'My Pebble' and it will give you a drop down list.  Select 'Watch Apps'. This screen will give you the list of all watch apps and watch face installed in you Pebble watch. And there is a big button saying 'Get Watch Apps'. To install new apps and faces in your Pebble just select this option.
Install any watch app for your pebble by just touching on the one you want. You can go back when you see 'Update complete'. Check your watch the watch face or app is there. Navigate through your collection in your watch and enjoy the smartwatch.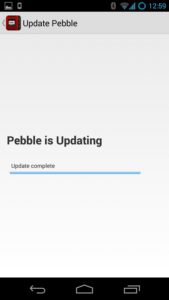 If you want to check if the notifications and other setting are working, you can select 'Sample Notifications' to check. Click on any of the option and check.