Apps on your Android build a lot of cache files in your device. The device becomes slow. Cleaning cache files brings you back some memory, speed increases. App Cache Cleaner is a nice tool to have on all Android phones and tablets. You don't need to have ROOT permissions to use this app. With a single click you can delete all your cache files and increase memory and storage.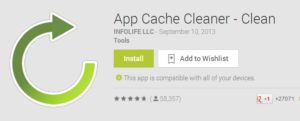 If you are an Android user, then you know how your smartphone is performing in your hand. If you are using it with some much apps and long times, you are most likely to have more cache files in your device. In some ROMs cache cleaner is a built-in function or some other kind of tweak.
You can download the app for free from Google Play and install it. Once you open the app, it lists all the app and their cache size. You can clean cache app by app or press the button at bottom of the screen to clear them all in one click. There are other apps available in the Play store too that you might want to try out.
App Cache Cleaner does some other jobs too. You can uninstall or share any app by long pressing on them. Get the application details. If the notification icon is annoying to you and don't want it there. Go to app settings and un-check the 'Notification Bar Icon'. You don't have to see it anymore. You can find some other nice setting on the settings menu as well.
This Android smartphone cleaning app has a left sidebar menu, where you can schedule the next clean. You can limit the size of cache files for the app to start cleaning. It is suggested to use the app few times a week, to keep your device performing nice. The free version of App Cache Cleaner contains ad. If you don't like the ads you can buy the ad-free version for £0.99 from Google Play.