Nexus 5 image leaked in a Google video that just got uploaded. Google just announced Android 4.4 hours ago. They kept the info well secret, nothing leaked. They uploaded the Android Kitkat statue unveiling video from the Google headquarters in Mountain View, USA on YouTube. This must be the Nexus 5 because Google just made that video unavailable.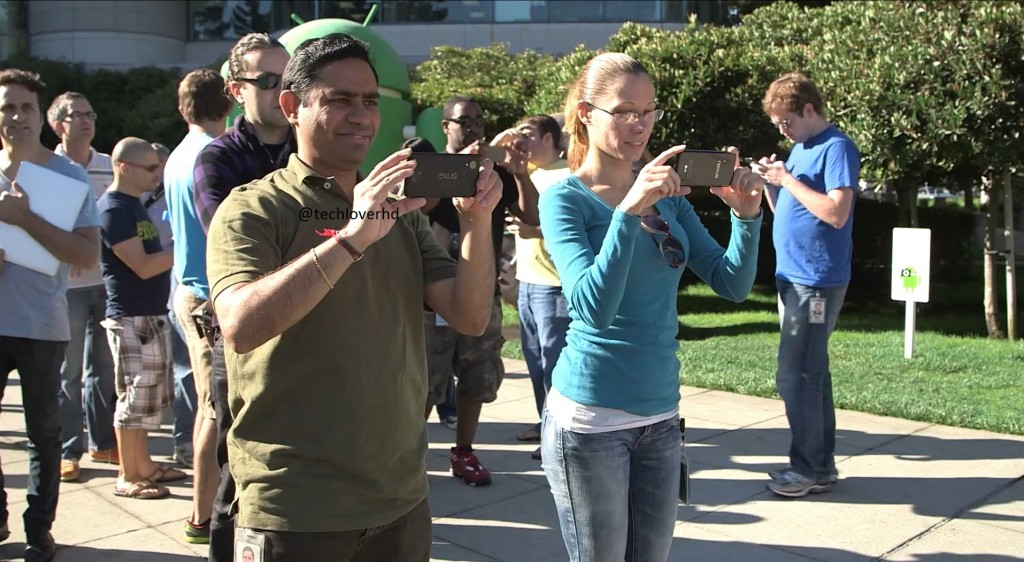 On that video at 00:38 we saw some Google employees are taking picture or recording video with some Nexus devices. One of them are using the current Nexus 4 made by LG. The Nexus sign is present at the back cover. But another employee is using another employee is using another smartphone, slightly bigger than the Nexus 4. It says "Nexus" at its back as well. This is our Nexus 5, the next Nexus from Google.
The Nexus devices are getting bigger and bigger time by time. The Nexus 5 is the same. Bigger than the Nexus 4. There is a big camera at the back of Nexus 5 which is located on top-left corner. Is there an LG logo too at the bottom? Along with the announcement of Google's next Android update there was no Nexus smartphone announced. Google kept everything secret. But this time their own video leaked a most valuable info about the next Nexus device.
There is no official words about this phone yet and neither any spec. I'm sure that the leaked Nexus is running on Android KitKat, the next version of Android. We have to wait until Google officially does it. I don't think any further specification will leak before Google says it from their own mouth.
By the time I started writing about it I saw the video and thought to share it in this page for you readers but unfortunately Google just pulled the video and made it private. Luckily I could take a screenshot of it on 1080p playback before it was pulled.
Rumours about the specs, price, release date will start appearing soon on the web about Nexus 5. But we are sure that this is a new Nexus smartphone. Let us know your thoughts about the next Nexus through comment.