Samsung Galaxy Note 3, a 5.7″ Super AMOLED Full-HD display phone. It comes with a  huge 3 GB RAM, 2.3 GHz quad-core processor running inside it. You can call it a beast. But, there is a tiny little problem that it comes with. It's region locked. This clarifies that you can not use it in a different region with local SIM card. Now, here is a problem if you are travelling out of region.
Do you want to get your Samsung Galaxy Note 3 region unlocked? XDA Senior Moderator / Elite Recognized Developer 'Chainfire' have a solution for you. Chainfire has created an app which can remove the 'Region Lock' from the Galaxy Note 3 and it is called 'RegionLock Away'. The app works only on rooted phones and only compatible with Galaxy Note 3 SM-N9005. If you don't have a rooted phone, you are advised not to use this.


How to Region Unlock Galaxy Note 3?
There are two ways you can get the app to region unlock your phone. Option one: get the 'RegionLock Away' from Google Play Store for £1.99. Option two: download 'RegionLock Away' free from Chainfire's XDA Developers original thread. You will get all the information over there.
Install the app and run it.
Select 'Region Unlock'. The app will ask for Super User permissions.
Grant the SU permission.
You don't have to do anything else to make your Galaxy Note 3 region free. The app will do everything for you. When it finishes, just select Reboot. When the phone reboots, you will find it region unlocked. [Note: This is not SIM unlock].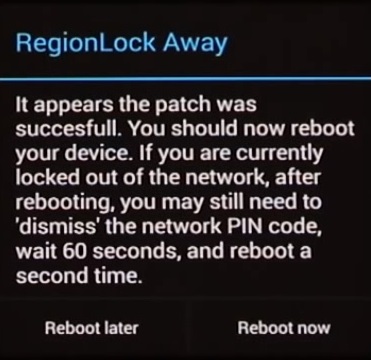 If you want to SIM unlock your Galaxy Note 3, then this is not your app. You can buy SIM unlock code online. There is a nice thing about SIM unlock on this phone. Some users reported that SIM unlock removes the Region Lock. What do you say?