Nexus 5 price has leaked ahead of the announcement. We have been waiting and getting rumours, leaks and such over the past few months. Now the wait is over. The phone is here now, waiting to come to our doorstep soon. Recently we talked about the leaked LG D821 Nexus 5 service manual uploaded to Scribd. Which is later deleted by LG's request. But we already have a lot of information about the next Nexus, not officially and without the price. Now we have the price too.
PhoneArena received a tip about the Nexus 5 price and there will two variants of it. The 16 GB Nexus 5 will carry a 2,300 mAh battery and priced at $299 which converts to £185.48 in the UK. The 32 GB Nexus 5 will carry a bigger capacity 3,000 mAh battery and priced at $399 and GBP conversion is £247.52. This is the first time Google will make two different versions based on battery capacity and internal storage.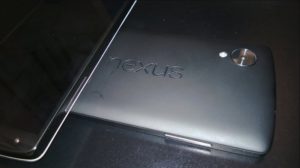 The $ figure shows the price in for the US. But here in the UK what is going to be the price? £185 doesn't look legit amount for Google to sell it. We always see different prices here and the people in the UK are paying more than US for a Nexus device. We hope Google realize it and put a nice affordable price for the Nexus 5 for UK users.
[Source:
PhoneArena.com
]