Nexus 5 users can now ROOT their device CF-Auto-Root script. XDA Elite Recognized Developer Chainfire has rooted the Nexus 5 and made it available to the users. I just finished rooting my Nexus 5 few minutes ago and it worked nicely. This is the easiest and quickest way to ROOT Nexus 5 at the moment. And not to mention, the First ROOT of Nexus 5 upon release.
If you are looking to root your Nexus 5 you know why you need it and all the consequences what might happen to your device. Chainfire's script just install the SuperSU binary and the APK inside your Nexus 5. If you didn't unlock the bootloader, on your phones screen you will see a message and you should choose if you want to unlock the bootloader. You need to use the VOL buttons to Navigate and Power button to select.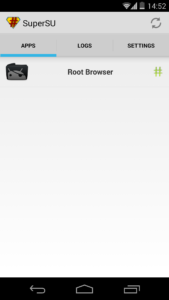 How to Root Nexus 5?
You need to download and extract his files that you need to get from his XDA thread. Turn off your phone and restart to bootloader / fastboot mode. You have to press Vol Up + Vol Down + Power to restart your phone to fastboot mode. Connect your Nexus 5 with your computer. His exploit works on Windows, Linux & OS X. All the instruction is there and easy to understand. You just need to select the one for you. CAUTION: It'll erase your phone. So, if you have anything important BACKUP them first.
Once you start the process, first, it unlocks the bootloader. Then it will restart and will show a red screen, restarts again and will start installing the update. Wait few minutes and it'll be done. You will get a nice and fresh new phone again with ROOT.
You have to go through the first-time setup process. On your apps list you will find SuperSU app for all your Superuser permissions. If its not there you can download the app from Google Play Store.
Happy Rooting Nexus 5!