Android widgets are kind of mini apps which stays on your homescreen. Always running on the background waiting for your to interact. They actually make your display looking great with up-to-the-minute information. This Android widgets are exclusive for Android users. iOS or Windows phone users can not use these feature in their phones.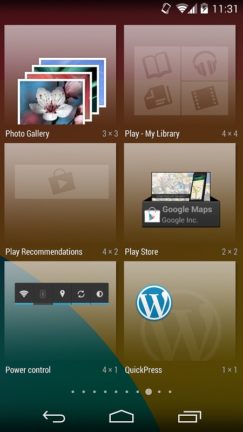 There are four different kind of Android widgets available for device. Information widgets, Collection widgets, Control widgets & Hybrid widgets. All of them does different things for you. You can either view information from a certain app or turn off or on your WiFi by a widget. Widgets works as a remote control of your app or device.
There are plenty different widgets available in Google Play Store. Some of them are standalone and some comes built-in with apps. You can re-design your Android homescreen with this. Most of all you get some pre-installed widgets with Android when you get the device. Such as Clock, Calendar, Google Play, Gmail, Contacts, SMS or E-mail and more. Sometimes it depends on the device manufacturer. They like to put their own apps and widgets as well.
Some of the Android widgets comes in different sizes. Lets you choose how you want to organise your homescreen and the information you want to view. Widgets resizing is another nice thing. You can resize some widgets based on your screen needs and space. Some of the widgets reveal more information as you expand them.
If you don't like the stock Android widgets which comes pre-installed, you can download more widgets from Play Store. There are apps widgets and games widgets. You will get a wide range of choice. Some of them are free but the paid ones are nicer. If you don't have Google Play Store access there are more in Amazon Apps Store. A lot of them are for free.