Samsung today released a giant Samsung 110 inch TV  with a stunning Ultra HD (UHD) 4K display. This is the Samsung made first 100 inch UHD TV that Samsung Showed off on CES. The TV is now on sale in China, Middle East and in some of the European countries. They are selling this TV in South Korea for $150,000 and the price will vary in different countries.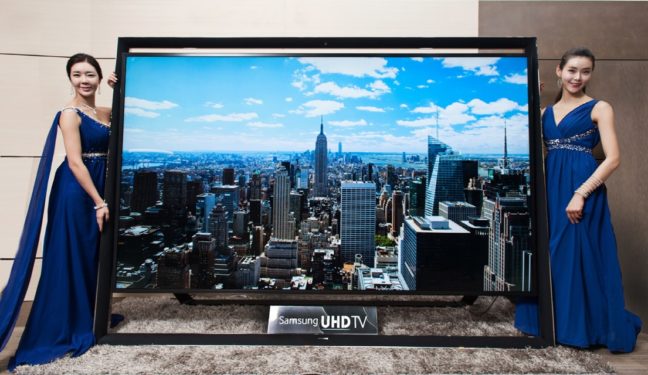 The Samsung 110 inch TV is bigger than your king size bed. The TV is 2.6m x 1.8m in diameter. The 4K Ultra HD will bring more detail to everything. Though there aren't enough 4K broadcasting yet. And the price of the TV is high. Sky is testing 4K broadcasting in the UK.
4K Ultra HD (UHD) is 4 times more resolution of the standard High-Definition 1080p HD. 4 times more pixels, more clear and sharper. Samsung is trying to move away from OLED manufacturing to making ultra HD TVs because of cost. OLED costs more.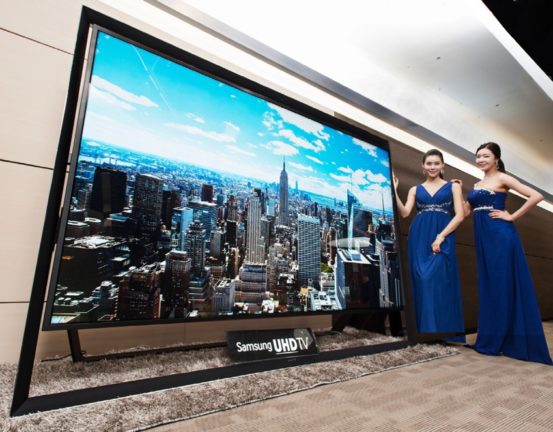 Samsung is a nice manufacturer of smart TVs at the moment. They are always updating and improving them and their services.
Samsung 110 inch TV Price
There is no price and availability for the UK consumers yet. I will update price and links when its available. Do not forget to subscribe to receive email for new and updated posts.
Samsung received a lot interest and positive feedback after they launched the 85″ UHD TVs earlier. This Samsung 110 inch TV might be a  nice deal for the VVIPs. It also needs a large space.
[
Source
]