Samsung smart TV with dual-core processor UE40F5500AKX is now selling for only £390 on eBay. The item is now 40% off from the original price £659.99 and saves you £270. You get a beautiful 40 inch LED TV which is even smart. Connects to your WiFi and play online contents like BBC iPlayer. Hughes Direct website is selling this TV for £399.99 which is £10 more than eBay. Anywhere else in the web or in-store its expensive.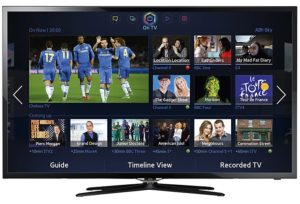 Official Hughes Direct Outlet on ebay.co.uk are selling this Samsung smart TV with free delivery. Their feedback scores 99.6% positive among 20,951 ratings at the time of writing. Indeed a bargain if you are looking for a smart LED TV.
Samsung UE40F5500 Smart TV Features & Specs
Samsung UE40F5500AKX 40 inch smart TV supports USB video recording and playback. Samsung TVs support any kind of USB devices where I found Sony TVs can't. 3 HDMI ports for various devices. Comes with DLNA support.
This Samsung LED TV comes with S Recommendation. Recommends you videos or shows based on what you watch or how you use your TV.
This Samsung smart TV comes in Full HD 1920×1080 resolution. I have to say Samsung makes really nice display. I have one older 40 inch Samsung LED TV and I like the nice display. This UE40F5500AKX model comes with WiFi built-in, just a matter of time to set it up. Now, you can navigate faster with the dual core processor inside. Enjoy your favourite YouTube videos. The refresh rate of this TV is 100Hz and comes with Dolby Digital Plus sound system.
You can watch any great content from your smartphone or USB Drive or from internet. If you are into buying a new smart TV, this can be a great choice. You can but it from eBay UK site.