Unlock Samsung Galaxy S4 now for free if your phone is locked to any network. Locked phones can be pain sometimes. If you want to change network and use the different one or another network in a different country. There's nothing better than an SIM / Network unlocked phone. Sometimes locked phones can be cheap or comes free with a time limited contract from mobile phone networks.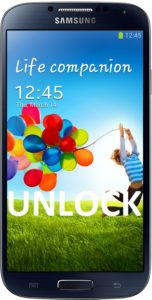 If you are a owner of a Samsung Galaxy S4 and want to SIM unlock your phone, there are two options for you. You can unlock your Galaxy S4 free or you can pay for eBay listing to get it done. I'm going to give you the idea "how to unlock Samsung Galaxy S4" free and the other way is to buy the unlock code. Sometimes they can be cheap, like the Motorola Moto G unlock code. See which one works for you. Though the free option reported to work for a large number of users. The paid version has rare failness. For any valid reason if you can't unlock your phone via the paid option, still you can get your money back.
Free Unlock Samsung Galaxy S4 i9505
First check with you network provider where the phone is locked to. Some networks will give you free unlock code after staying with them for a minimum length of time. You should check their terms and conditions for this. I know its boring but you can get your phone unlocked for free.
To unlock Samsung Galaxy S4 free you need to use the service mode of the phone. The hidden service mode contains the key to unlock your beloved Galaxy S4. There is a nice step-by-step article with screenshots written by Aatif at Redmondpie website. Follow all the steps (Steps 1-8) carefully and at the end after rebooting you will get an unlocked Galaxy S4 in your pocket.
Buy Unlock Code
If the free unlocking doesn't work for you then you definitely need to buy the unlock code. You can either do it online or ask your network provider to unlock it. It will be bit expensive if you ask your network operator to unlock it if you are on pay as you go. I prefer eBay to buy unlock code for a very cheap price and they always worked with my phones. Here is search result page in eBay UK for you to find some item listing where you can buy the unlock code for Samsung Galaxy S4. Price starts from £7+.
The plus point is you can order unlock code for some other models as well. Some sellers are providing the unlock code for different devices for the same price. That is a very cheap unlocking solution. Again, do not forget to read the whole listing before you place your order and remember to send the correct IMEI.
Happy unlocking and enjoy unlocking your Samsung Galaxy S4 which you can use with any network of your choice.