White Nexus 7 is here in the Google Play Store before Christmas this year. Consumers worldwide waiting for the white version of the most anticipated Nexus 7. This 7 inch tablet is only available in 32 GB WiFi version only and price £239.99. If you are looking for a 4G LTE version or less memory, this White Nexus 7 is not for you.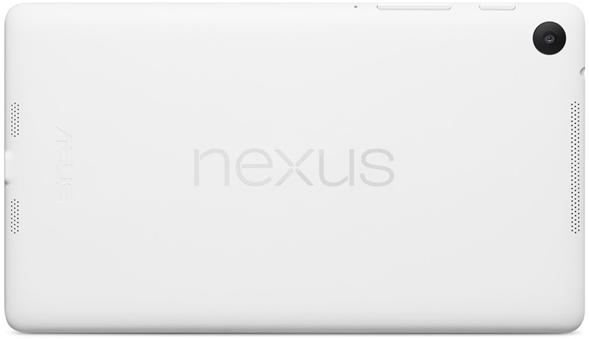 What's New?
This 2013 white Nexus 7 costs £1 extra than the normal black color. All the specs remain same as the Nexus 7 2013 version. Only thing changed on this tablet is the back color is white. While the front is still the same, black. Dispatched within 1-2 business days and of course free shipping. The listing is showing the tablet comes with Android 4.3 Jelly Bean. It can be upgraded to Android 4.4.2 KitKat which just recently released.
The Specs
Just to refresh your memory, the Nexus 7 (2013) comes with 7″ HD IPS Display, quad-core 1.5 GHz processor, 2GB RAM, 2 cameras, Bluetooth 4.0, NFC, Dual-band WiFi and a huge 3,950 mAh battery. This large battery will keep the device up about 9 hours of using. The display is scratch resistant Corning glass.
If you would like to try the white one in 16 GB version, Play Store replies, "The configuration you selected isn't available". And, it shows you the black 16 GB version as an alternative to your search.
There are plenty accessories available in the Play Store for the White Nexus 7 and all other versions of the new Nexus 7 2013. From sleeves or Qi Compatible wireless chargers, you can get them from the web Play Store. Remember, the accessories are bit pricey there. If you would like to get some cheaper accessories for your device, you should be looking the shops from different retailers.
Do you own a Nexus 7 tablet? Are you interested to buy the new white Nexus 7 this year? Do you think it's worth money? If you are thinking to buy this tablet you can check the web Play Store for the 32 GB white Nexus 7.