White Moto X along with the black version is now ready to pre-order for UK consumers. The phone will launch on 1st February 2014 and will be available from different retailers and online shops. The white Moto X will be available exclusively for Phones 4U for the first three months.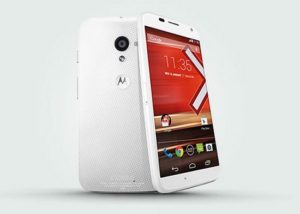 Phones 4U opened a new page for the Moto X and displaying both black and white version to pre-order. You can pre-order the white Moto X only for £25 per month contract and get the phone for free. They are also offering a free bluetooth speaker worth £120 with every pre-order. Also, Google is giving you free 50 GB storage for 2 years with every Moto X. There is also SIM free unlocked version if you want to get. PAYG will cost you around £380.
Moto X is a rocking phone and got a lot of attention when it released. Motorola, now, a Google owned company manufactured the Moto X phone in the USA. Moto X comes with a 4.7″ HD AMOLED screen with a 1.7 GHz dual-core processor with Adreno 320 GPU. 2GB RAM and a choice of 16 or 32 GB on-board storage. There is lack of a microSD slot on this phone. Non-expandable storage like Nexus devices.
There is a nice 10 MP back camera which supports quick capture and 1080p Full HD video recording, and a 2 MP front camera. The phone is filled up with sensors. Touchless control will help you to use your phone with voice commands. The phone supports 3G and 4G connectivity, so, use it with any network.
The phone will be running on Android 4.4.2 KitKat and comes with more polished UI. Though, Moto X was released earlier than Moto G but wasn't available in the UK. Pre-order  the White Moto X now, if you liked the phone and wanted to get one.