Twitter is a very fast and easy way to share, discover anything which is happening near you. Alternatively, this is the real-time news source. You can get the latest news here before you even can get it from the media. Twitter for Android app updated to version 5.2.4 recently. You can download the app for free from Google Play Store.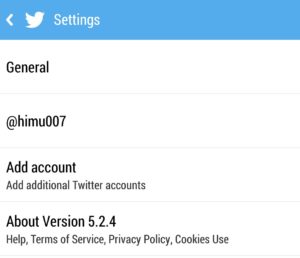 The update brought a lot of new features. Now you can tag people in your tweets. The Twitter for Android app updated on 24th of March 2014 and sizes only 9.36 MB. This update includes enhancements to sharing a uploading photos. There is a version of Twitter for Google TV as well. But that was last updated on November 2011.
Twitter been updating their app often, almost every week.  Hopefully we might see another update of the app very soon. One of the great essence of life is to get updated app for your devices, if you are a geek. Even, for non-geek persons, it is recommended to keep your apps updated for security reasons, improvements and new features.
Update / Install Twitter for Android
There are plenty different apps in the Play Store for Twitter. If you use Twitter and love it. You should get the latest official version of Twitter for your Android devices. You can install or update it from Google Play (link).