Google Search app for Android got an update with offline support. Google posted on their Google+ page about this new update. You need to have the latest Google Search app to use this feature.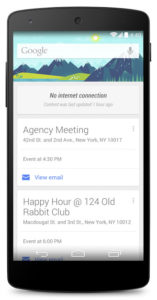 Reminders, events and other cards will still be available if your phone to tablet lose data connection. Very useful in subway, underground, tube, metro and more. Thanks Google for this brilliant update.
If you are already using Google Now, head over to Play Store for the Latest Google Search app and update to the latest version.