Google Camera updated again yesterday in the Play Store. The updated version number is 2.2.024. This is a major update brings ability to take picture on 16:9 ratio, which we hoped to get in future update. Previously we have seen few version of this app and they are adding splendid features in the Google Camera app. The earlier version was Google Camera 2.1.043.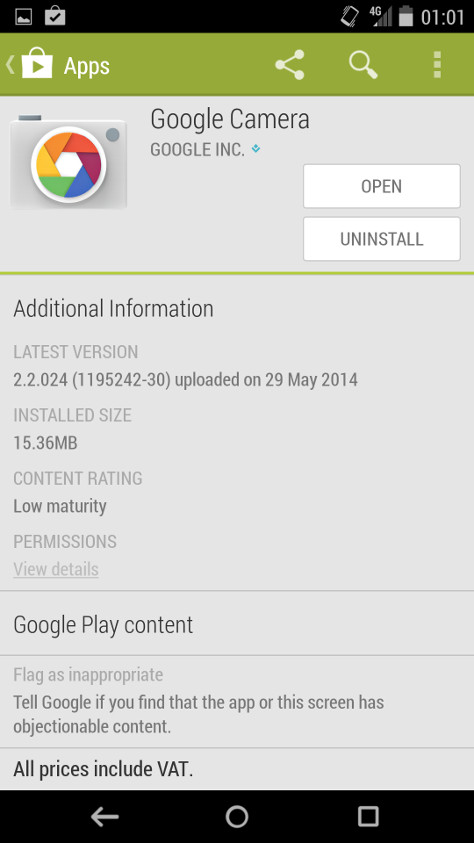 What's new?
Only 4:3 aspect ratio was available earlier on the Google Camera app. Now, we can take 16:9 wide angle pictures, with 6.0, 2.1 and 0.9 megapixels resolution. Still, if you want to use all of your 8.0 MP you need to take 4:3 angle pictures.

Another impressive thing is you can use Fisheye mode in Panorama pictures.
And, timer is now available in Google Camera app v2.2.024. Set up the timer and take picture in a moment later.
If you open the Google Camera 2.2.024 app for the first time in your phone or tablet, you will see one off screen showing Full sensor (4:3) and Cropped sensor (16:9). You can always change it from the settings.
Download Latest Google Camera
This is a great app from Google itself for Android 4.4+ phones or tablets. There is a unofficial workaround and modded version, which is capable running in older versions of Android. The updated Google Camera app sizes only 15.36 MB. You can download it from Media Fire mirror easily. Head over to Google Play if you prefer the official source via this link.
Installing or update to Google Camera 2.2.024 is easy and you can install the update over your existing app. There shouldn't be any problem unless your device is using older Android version.