Google started selling Google Glass Explorer Edition in UK for £1000 from 23rd of June 2014. Every explorer buying a Google Glass will get a free frame or shade to use with it.  And, you can get your prescribed glass too.  Google also listed plenty of accessories, pouches to sell separately.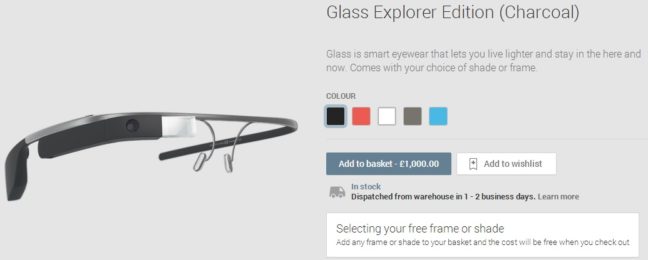 Google Glass Explorer Edition released last year in the USA within a limited number of people. They opened it up for public this year. And, they delivered it into UK at Q3, 2014. Glass works via bluetooth with any Android device running Android 4.0.3 (Ice Cream Sandwich) or higher and iOS 7 or higher for iPhones and iPads. The connection requires MyGlass companion app. You can get the app from Play Store on Android or App Store for iOS.
Google Glass now running on Android 4.4.2 KitKat. This update increased battery life for the Glass compared to previous versions. Though it will last only one day with normal use. Higher use with video will let you use less.
You can use Google Glass Explorer Edition for Google Search, Navigation, Google Now cards, Phone call & SMS, Gmail and more. Glass works as your bluetooth headset.