The official Twitter app on Android is great way to use Twitter on your mobile phone or tablet. Share everything in real-time anywhere and stay up-to-date. You can even add photos to any message from the Twitter app. The app has a 4.1 rating in Google Play Store and constantly being updated, almost on every week.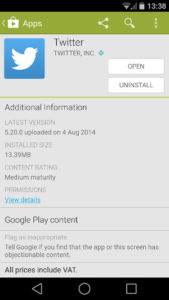 The new profile is a great cool feature added to Twitter recently. You can even favourite anyone's profile and get updates from them when they tweet. The newest Twitter app update pushed to Play Store yesterday, 4 August, 2014.
Twitter version 5.20.0 for Android sizes 13.39 MB. As always, Twitter didn't make any list of changes or bugfixes. The What's new section on Play Store says, "This update includes several improvements and bug fixes."
How to get?
Download is easy and you can get the Twitter app free from Play Store using this link. There are plenty of 3rd party Twitter apps available as well. Some of them are very good app. Don't forget to try them as well. Happy tweeting from your Android phone and tablet!