Samsung Galaxy Tab PRO 12.2 (SM-T900) is a great tablet in the market. It comes with a 1.9 GHz quad + 1.3 Ghz quad-core processor and 3 GB RAM. This tablet should be running a bit more faster than it does with the specs it comes with. However, with a small trick without voiding your warranty you can make it faster. You even don't need to root your tablet to that.
Here is simple 2 step trick on how to make Samsung Galaxy Tab PRO a bit faster easily.
Step 1: Enable Developer Options
To do so, go to Settings. Click on General tab. Scroll down on the left side menu and select About device.
Click on Build number 7 times repeatedly. You will see this message that says now you are a developer. And on the left side pane you will see a new menu just above About device called Developer options.
Step 2: Settings to change in Developers Options
Click on Developer options and scroll down to Drawing section. Set the value of Window animation scale, Transition animation scale & Animator duration scale to 0.5x from 1x. You can even turn Animation off if you don't want them. In this case your Samsung Galaxy Tab PRO 12.2 will respond faster.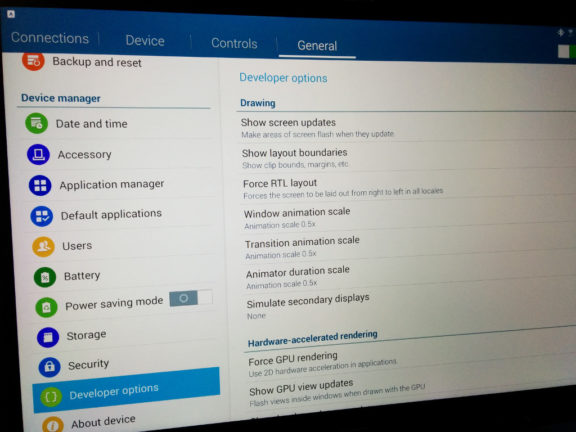 This basically works with most of the Android devices. Hope you are now enjoying a faster tablet without much work.