Google I/O 2015 developer conference is just few days away. They released the Google I/O 2015 app for Android on Play Store. Available to download on any devices running Android version 4.0 or above. A great companion app if you are attending the conference in-person. However if you can't attend physically, you can watch live sessions, remotely login and take part with this full featured app. But, if you are attending in-person and using the app, you will get some extra things. The app will work with different screen sizes and shapes.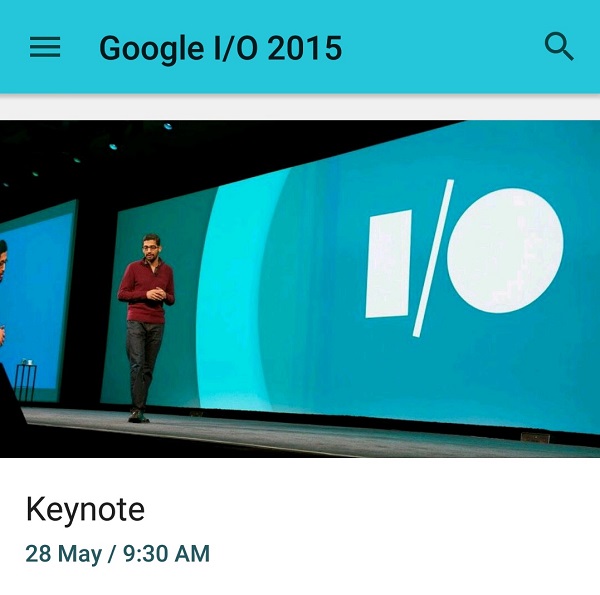 Features of Google I/O 2015 App
Google every year delivering something new and interesting with the Google I/O app. This year the same, changes and new things. The I/O 2015 app now features Google Material Design, which they have implemented throughout their sites, apps and services. Lets have a look what are the special features of this app.
-- Explore the conference agenda, with details on themes, topics and speakers
-- Add events to a personalized schedule
-- Get reminders before events in "My schedule" start
-- Watch the keynote and sessions live stream
-- Sync your schedule between all of your devices and the I/O website
-- Guide yourself using the vector-based conference map
-- Follow public social I/O related conversations on Google+ and Twitter
-- See I/O content from previous years in the Video screen
-- Use the Widget to check your upcoming events directly from your home screen

*Exclusive for In person attendees:*
-- Take advantage of facilitated pre-event WiFi configuration
Download Google I/O 2015 App
If you want to attend remotely or want to watch Google I/O 2015 live, you can get the app in your phone or tablet. Remember your device should be running Android 4.0+. Download the app from official source (Play Store). The app sizes only 3.7 MB.
What if I don't have access to Play Store?
If you don't have access to Play Store from your device and want to get the apk. Let me know in the comments and I'll upload the link here. Alternatively if you need the Play Store apk, go to Play Store Download page.