There are millions of apps available for our mobile devices. Here are 6 of them that you may use most. These apps been downloaded and installed on users devices the most and been on the top chart. These 6 apps covers your social networking, e-mail & communication, news, live TV & cloud storage.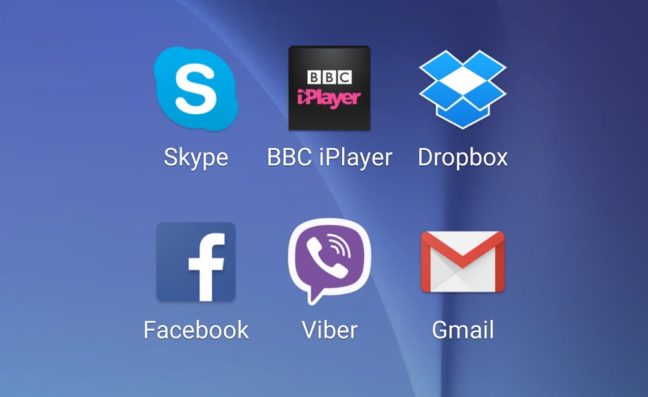 Facebook
Facebook is the most popular social networking platform on earth. Popular features include:
Stay connected with your friends and family
Share updates, photos & videos
See what friends are up to
Unlimited group chat
Play games and use your favourite apps
Dropbox
Dropbox is a very popular cloud storage app. It lets you bring all your photos, docs, and videos anywhere. They give free storage and paid if you need more. Benefits include:
Access your files from anywhere using Internet
Use the app with any device to upload/download files along with their web-based service
Edit MS Office files from your phone or tablet
Send large files without attaching them with your email
Get more space if you need it
BBC
iPlayer
Watch live and catch up on last 30 days of BBC TV. One of the best and most downloaded streaming app in UK. Important features include:
Watch Live TV
Catch up on the past 30 days program
Watch on Wi-Fi and mobile networks
Download TV programmes to watch later
Cast content to your TV using Google Chromecast
Skype
Skype offers free video & voice calls and instant messaging along with cheap international calls. This is one of the oldest video calling app on market and now owned by Microsoft. Great features include:
Talk face to face with free video call

Keep up with friends and family far away from home

Group video calls with up to 25 people

Available on almost every platform
Gmail
Gmail (Google Mail) is one of the best free email services out there. Gmail app on Android works with your Google, Yahoo, Hotmail and Microsoft Exchange accounts. This is the only app you have to use for all your email services.
Works with any email services
Receive and send all your e-mails using one app
Stay organized using separate accounts for different email addresses
Viber
Viber is a free messaging and file sharing app which was mainly created for Android in the beginning and has more than 711 million users worldwide. The service is very secure as they use end-to-end encryption, means man in the middle cannot hack your chats or files. Few important features:
Make free phone and video calls with HD sound quality
Hidden chats – hide away specific chats so nobody knows they even exists
Download static and animated stickers from the Sticker Market
Create group messages with up to 200 participants
Delete a message from all members of the conversation, even after you sent them
Do you use them daily? What are your favorite apps that you can't live without them? Let us know in the comments.