Google refreshed their Nexus 5 to Nexus 5X last year and they stopped the Nexus line of devices completely. This year, they released Pixel and Pixel XL with better specs and Android 7.1 (Nougat). I was already using Android 7.0 beta on my Nexus 5X for a while and now Android 7.1.1 is available to install and use on Nexus 5X along with Google Assistant.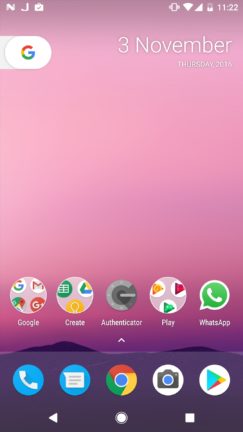 XDA Dev argraur created a thread to offer you Android 7.1.1 on your beloved Nexus 5X. This ROM is based on Google Pixel providing fast & fluid experience while being stable.
Features & Mods
The ROM packed with Android 7.1.1, all Pixel goodybag, Google Assistant and can be used as a daily driver. For full feature list check below.
Requirements
Nexus 5X (Bootloader unlocked)
PixelROM for Nexus 5X (download link)
Windows / Linux PC (Developer is working on Mac script)
How to install Android 7.1.1 on Nexus 5X?
This update is not directly flashable via any recovery (CWM or TWRP). You need to use fastboot to install Android 7.1.1 on your Nexus 5X. Before you flash anything, please backup your data as this will erase everything, including internal storage. Here are the steps:
Extract the zip file into a folder
Reboot your phone to fastboot mode (from powered off hold Power + Vol Up button combo)
Run Flash-PixelROM-Windows.bat
Select option 1 first
Then, select option 2 (this may take some time)
Your phone will restart few times, this is normal
Everything will be installed automatically. I've installed it on my phone and working perfect (except the Pebble app crashes, which is a minor issue). Settings > About Phone will display the phone name as Pixel XL. This is normal and required to run Google Assistant.
Gallery
If you would like to install it in your Nexus 5X, head over to XDA Developers forum thread. All the information are available there including latest builds and download links. If you like this ROM, don't forget to hit the "Thanks" button for the dev in thread. Let us know in the comment you find this ROM.