[Update: OnePlus 3 is now discontinued from the manufacturer OnePlus. Upgraded version is now called OnePlus 3T and O2 UK exclusively carrying it.]
O2 UK, the best network for coverage, uSwitch 2016 winner selling SIM-free (unlocked) OnePlus 3 smartphones. O2 is the only network selling them in the UK.  The price just starts from £28 per month without any upfront cost. OnePlus 3 is a high-end phone at an affordable price range, competing with other 5.5″ (inch) display phones. Running on for Oxygen OS 3.2.4 which is based on Android 6.0.1 (Marshmallow).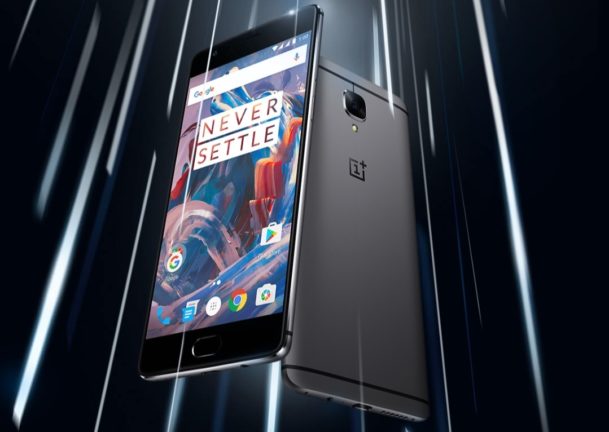 OnePlus phones used to be sold with invitation only in the past from their website. This is surprising and nice that you can purchase their phones from carrier now. Of course you can get it from other online marketplace too like Amazon or Ebay, but the price tag is hefty, ~£400. You have to pay more than the original price. The phone was supposed to go on sale for £309 in the UK. After Brexit, the manufacturer pushed the price up for UK consumers to £329 and selling at that price on their website.
The phone is made with metal and Gorilla Glass 4 with 5.5″ (inch) Optic AMOLED Full HD (1920 x 1080p) display. Feels nice on hand but to be honest, from back it looks similar to HTC phones. The fingerprint sensor of OnePlus 3 is in the front. Very fast to respond and to unlock the screen.
I'm impressed that this phone is really fast and smooth to use. OnePlus 3 packed with 6GB of LPDDR4 RAM and the 64-bit Snapdragon 820 2.15GHz quad-core processor. Also comes with 64GB UFS 2.0 internal storage which is pretty fast but no microSD card slot. You can't expand the storage size, but 64GB is fairly nice storage option.
At the back there is a 16MP f/2.0 camera and 8MP f/2.0 front camera. Fast in autofocus and captures nice pictures. The smartphone also comes with 3,000 mAh battery with fast charge, should be fine for a day of usage. OnePlus used Dash charging technology which will charge with phone upto 60% in 30 minutes. The Dash charging adapter will pass electricity to your phone in a controlled way without making the battery or the phone to become hot.
OnePlus 3 Unboxing
Here is a quick OnePlus 3 unboxing video recorded with a Galaxy S7 Edge camera.
Where to buy?
You can buy the OnePlus 3 from O2 stores around UK. But, the availability depends of stock. Follow the below link to get it online SIM-Free and unlocked.
OnePlus website: https://oneplus.net/uk/3
O2 UK Website: https://www.o2.co.uk/shop/phones/oneplus/3
Let us know what you think about the phone in the comments.