Samsung is releasing a lot different variant of Samsung Galaxy S4. From today Samsung has started selling of Samsung Galaxy S4 Dous (I9502). Galaxy S4 Dous support 2 (two) SIM card module. We've heard about I9500 and I9505 the other two variant of Galaxy S4. This variant is only for China at the moment as Samsung have not yet thought to expand Galaxy S4 Dous worldwide.
The included S Translator app will translate and pronounce for you into few different languages. Life is more simpler with a Galaxy S4. You are watching a movie or video on Youtube and you take your eyes off from the screen to do something, video will pause and when you look back the video will start automatic. S4's sensors and gestures are really cool feature.
This phone is nearly the same as other Samsung Galaxy S4's except a few changes in weight, 2 SIM slots. Camera back one is the same 13 MP. Galaxy S4 Dous comes with a microSD slot with the support up to 64 GB. 64 GB cards are not that much expensive recently, but it going to go down more in few months time. With 16/32/64 GB internal storage choice and of course a total of 2 GB RAM boosting the performance of the phone. Now, the Processor of this phone is same as well. Running on Exynos 5 Octa 5410 Quad-core 1.6 GHz Cortex-A15 & Quad-core 1.2 GHz Cortex-A7.
There is another version Galaxy S4 as well for China but that one supports only one SIM card which is I9508 but comes with only a 1.9 GHz Quad-core processor. The included Dropbox app will give the user 50 GB of cloud storage.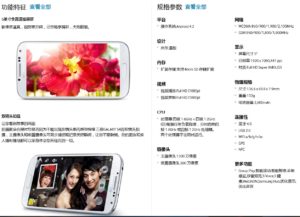 We might see another Water-proof variant of Galaxy S4 which is Samsung working on now. We still don't know how long we have to wait for Samsung's waterproof phone to come out. While Samsung is in trouble with the shipment of Galaxy S4 around the world.