Samsung is bringing worlds first high performance camera smartphone with 10x optical zoom. Yes, the rumoured Galaxy S4 Zoom is now official with specifications and product images. We already posted some real images of this camera smartphone posted by website TechTastic. Samsung didn't wait for the press event of 20th June, they announced from London yesterday.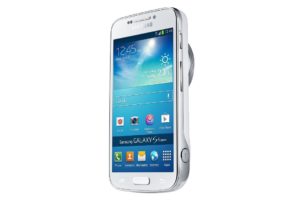 The rumoured specification and the official specification is almost the same. The specs are really temptive, it can take professional quality images. Great for people who like to take pictures with their phone. We actually take plenty of pictures with our phones and share them. But, compared to the quality of the pictures taken by Galaxy S4 Zoom, no other smartphones can produce at the moment. Surely Samsung will lead the market with this device for smartphones featuring quality camera. Even you can take picture while you are walking and talking with your friend. And Instantly send the picture to the person you are talking to via MMS.
Galaxy S4, the flagship device by Samsung has already got few different versions. I guess Samsung is looking to cover all the areas and compete for all different kind of devices, beside their innovation. Though this is a bit smaller than the parent device, specs are not completely same as well. Running on Dual-Core processor with 1.5 GB of RAM.
Samsung Galaxy S4 Zoom – Camera Details
The main camera we already know is 16 MP with 10x optical zoom 24-240mm, F3.1-F6.3 with enhanced SMART Modes and OIS (Optical Image Stabilization). Secondary video call camera is 1.9 MP. The camera ISO modes are Auto, 100, 200, 400, 800, 1600, 3200. Can take continuous shot @ 4fps MAX with auto focus. Taking picture in dark became easier with the Xenon Flash. I remember my Sony Ericsson K850i took very nice picture in the dark with the Xenon Flash built-in. I guess the experience now with device will be delightful.
The camera can both record and playback Full HD 1080p video. The supported codecs are MPEG4, H.264, H.263, VC-1, VP8, WMV7/8 and Sorenson Spark. Supported image formats are JPEG, PNG, GIF, WBMP, BMP and AGIF.
Don't worry if you can not take nice pictures. Zoom will take the best picture for you. All you need to do is select among 25 SMART Modes. The camera will do its job. The modes are Smart mode suggest, Beauty face, Best photo, Continuous shot, Best face, Kids shot, Landscape, Dawn, Snow, Macro, Food, Party/Indoor, Action freeze, Rich tone (HDR), Panorama, Waterfall, Animated photo, Drama, Eraser, Sound & Shot, Silhouette, Sunset, Night, Fireworks, Light trace.
Story Album is a cool feature that Samsung put in this phone. Now you can take great pictures on holiday. When you come back home the app will organize and prepare the best shots for you to share them.
Supported audio codes are MP3, AMR-NB/WB, AAC/AAC+/eAAC+, WMA, Vorbis(OGG), FLAC, apt-X. Bundled with Samsung's S Voice, S Translator. Samsung has added more features in this camera smartphone. Group Play, Story Album, Trip Advisor, Paper Artist. You can edit the pictures you take in your phone with a built-in app Blurb.
Will 5 GB internal user space be enough for you? No? That's why Samsung put their a microSD slot which supports upto 64 GB ;) Out of 8 Gb internal space 3 GB is gone for the OS and bloatware.
The phone will be available in LTE and 3G. Price and release date isn't available yet. Will you get one Samsung Galaxy S4 Zoom the first camera phone with 10x optical zoom?
[Source: 
SamsungMobilePress
]