Everyday we are looking for updates for so many things in our life in many different places. We always want to keep our smartphones updated with the latest firmware available. Some of us choose to root it and install custom OS and mods. To get the latest firmware update we have to wait for the manufacturer or the network provider to start the OTA (Over-The-Air) update or get a leaked firmware and install it. Generally updating to the latest firmware is good. You get some bug fixed, optimized, updated, sometimes with whole experience is change with more usability. Samsung is the market leader of Android based smartphones at the moment. There are millions of Samsung users worldwide with different models and OS. And to get latest firmware for your Samsung mobile phone SamMobile is working hard behind the screen. SamMobile is always ahead to release any new firmware or leaked firmware for all your Samsung mobile phones. Now they have more than 50,000 followers on Twitter and they're releasing update regularly.
If you are new in the Samsung smartphone family and looking information how to get latest firmware for your Samsung mobile phone. This post is for you. Just a tiny reminder before you proceed, 'I'm not responsible for what happens to your device, neither SamMobile. You do it on your own risk.'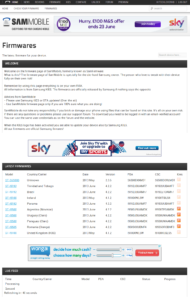 At present, SamMobile have a huge list of 1023 firmwares in their database, as of 20/06/2013. You can see latest 10 firmwares in their firmware page.
Instruction on How to Get Latest Firmware For Your Samsung Mobile Phone
Step 1 – Getting A SamMobile Forum Account
Get yourself a free account in SamMobile Forum. Without being a member in their forum you can not download any firmware. Even you can use the forum to build your knowledge on your device more. After you finish signing up you have to confirm your email address. Check your email from the forum and click on the email link to finish.
Step 2 – Find The Right Firmware For Your Device
Dial *#1234# on your phone's dialar to check your Firmware version. Go to sammobile.com/firmwares to access the firmware page. Their design of the firmware page is very nice and information is easy to find. Click on top-right search box in the Firmware page where it says, "Search device here…" and put your phones model number. Not the one on their static menu-bar. Example: 'i9500' if you have a Samsung Galaxy S4. The result for your device firmware will be displayed below. Find the correct firmware for your device carefully. If you do not find the firmware you are looking for and you are sure that the update for your device is not in their website. You have to wait until if there is any update for your device for unspecified time. Be assured if there's any update you'll get it there first.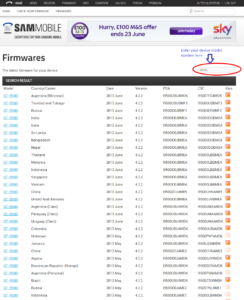 Step 3 – Download and Flash / Update
Click on your desired update if you want to download it and install via ODIN. It will bring you to the firmware download page with the details of the firmware that you are about to download. Verify that you are human and hit the Submit button.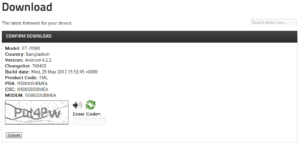 You can see on the right side of the result if the firmware update is available via Samsung Kies update. Visit their Kies page to get info how to use Kies if you don't know it already. Using Kies to update your Samsung Mobile Phone is recommended.
Flashing different ROM might brick your phone. Be extra careful. Happy firmware updating.