Nokia Lumia 1020 pictures leaked again with some confirmed specs few hours before the Nokia event in New York today. The Verge revealed. Do you want a phone with 41 MP camera? The new  Windows smartphone from Nokia is coming with 41 mega pixel camera with Nokia PureView. Definitely it will be taking brilliant images and shoot nice quality video. The design is bit similar to the Samsung Galaxy S4 Zoom, but without the 10X optical zoom.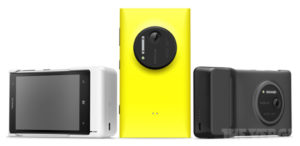 Nokia Lumia 1020 Specs
The Nokia Lumia 1020 is equipped with a 4.5″ (inch) AMOLED WXGA (1280 x 768) display. With Corning Gorilla Glass 3, PureMotion HD+ ClearBlack, High Brightness Mode, Sunlight readability, Super sensitive touch for nail and glove use. Not bad, huh? Sporting with a 1.5 GHz Snapdragon dual-core processor and 2 GB RAM. As we said the Lumia 1020 has a whooping 41 MP camera, it is equipped with a Xenon Flash and F/2.2 Lens on the back and also a LED light for video. Taking a picture in the dark wouldn't be a problem with this camera phone. This smartphone is equipped with a 32 GB internal storage and 7 GB SkyDrive cloud storage. You can take the best pictures with Nokia Lumia 1020 compared to other existing smartphone in the market.
Samsung's Galaxy S4 Zoom has 16 MP camera at the back and running on Android. Nokia Lumia 1020 will be running Windows 8 mobile operating system and has 41 MP camera and a front 1.2 MP HD wide angle secondary camera. Will you be still thinking to get a Galaxy S4 Zoom? SamMobile has just posted a teasing picture taken by the Samsung Galaxy S4 Zoom from their Twitter account.
The screenshot of the camera app for this device has also leaked showing different settings. You can have a first look at the two screen shots, if you haven't seen it yet. Users will be able to change various settings from this app and take brilliant quality pictures. With quick ISO, White Balance, Aspect Ratio, Metering, Sutter Speed, Viewfinder Grid settings you can adjust the camera as you like to take a better shot. Indeed the Pro Cam looks like a nice camera app on Nokia Lumia 1020. Even the smartphone is capable of 'Dual Capture'.
All will be powered by a 2000 mAh battery with a maximum standby time of 16 days. The Nokia Lumia 1020 will also be coming with free global HERE Maps installed. This Windows smartphone will be coming in 3G & 4G LTE flavour. Built in Wi-Fi, NFC, Bluetooth, USB 2.0, GPS. Of course, Nokia's wireless charging is supported on this device with optional wireless charging accessory kit.
[Source: 
TheVerge
, UnleashThePhones] [Camera Image: @vizileaks (
1
), (
2
)]