UK customers can now pre-order Nokia Lumia 1020, the 41 Mega Pixel camera phone. People have been waiting to hear about the price and release date ever since the Lumia 1020 was announced. The phone itself a great Windows phone with a nice hardware specs.
Until today there are only two mobile network who started taking pre-orders of Nokia Lumia 1020. Three UK and O2 are taking the pre-orders and stating a delivery date of 25th September, the day the Lumia 1020 will be released. Black & Yellow color is now available to pre-order
Pre-Order from Three UK
From Three network you can get the Lumia 1020 on lowest price is £34 a month on a 24 month Ultimate Internet 500 contract. They are also offering a this phone on £36 & £38 monthly contract. With all the monthly contract you still have to pay £69 upfront cost for the phone.
Ultimate Internet 500 – £34 (500 Minutes, 5,000 Texts, All-you-can-eat data)
Ultimate Internet 1000 – £36 (1,000 Minutes, 5,000 Texts, All-you-can-eat data)
The One Plan – £38 (2,000 Minutes, 5,000 Texts, 5,000 Three-to-Three Minutes, All-you-can-eat data)
Pay-As-You-Go – £549.99
Three UK is also offering free accessories pack worth £140 of gifts for the customers who will pre order the latest Nokia phone. The gift pack contains wireless charging plate, wireless charging cover, camera case and tripod. The lowest price on this network will be £34 x 24 = £816 + £69 = £885. Check details and price plans and pre-order on Three website if you are interested.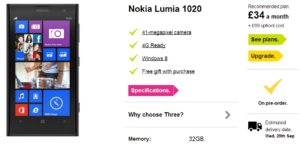 Pre-Order Nokia Lumia 1020 – O2 UK
O2 UK has also started taking pre-order on their website for Lumia 1020. The 64 GB version is exclusive to O2 Network. Customers looking to buy the 64 GB version, you have to go with O2 network.
To pre-order Nokia Lumia 1020 on O2 UK network you have to pay a bit higher upfront cost. Where the lowest is £259.99 on a monthly price plan of £27 for 24 months. You will get 300 minutes, unlimited texts and 500 MB internet. The total cost of this phone will be £27 x 24 = £648 + £259.99 = £907.99 for a 24 month period. For more info visit O2 UK's website.
Clove.co.uk is taking pre-orders as well and the price is £588 and I guess you have to pay for delivery as well. But the phone will come unlocked. Among the deal between of the two networks, Three is cheap and giving you more allowance and truly unlimited internet. Other networks until today didn't say anything about Lumia 1020.