Finally after many rumours and leaks Google Nexus 5 with Android 4.4 KitKat is here. Google yesterday announced the next flagship device Nexus 5 and started selling it on Google Play store. This latest smartphone comes with a quad-core 2.26 GHz processor, 2GB RAM, 4.95″ HD IPS display (445 ppi). Powered by 2,300 mAh battery and battery capacity is the same on both of the version. There is no variance as rumoured earlier but the version is LG-D821. The price is £299.99 for the 16 GB and £339.99 for the 32 GB version. Both of the version are available on Black and White.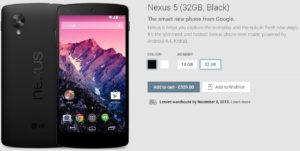 After the announcement and release of Nexus 5 Google ran out of stock for the 16 GB Black edition first in Play Store. Then, they slipped out the delivery to further one week. When they listed it first, the listing was saying the item will dispatch within 1-2 business days. Within half an hour Google edited the listing and saying it will dispatch from the warehouse by 8th November. There are also various bumper cases listed in the Play Store, some nice Nexus 5 case and screen protector found cheaper in Amazon UK.
After few hours of placing the order Google started shipping Nexus 5 with Android 4.4 KitKat to customers. Some of them were saying they got email that the delivery is delayed.
Along with Google Play, Carphone Warehouse announced that they will be selling the Nexus 5 on monthly contract and on pay as you go. They listed the price £295 for pay as you go which is £5 cheaper than Google. Their phone lines were open until 11pm yesterday to place order over phone as Carphone Warehouse didn't start to sell it online. But now, you can order it online from their site. I bought my one from the store today morning and it is now available across England in their stores. A Google Nexus 5 unboxing video is posted here.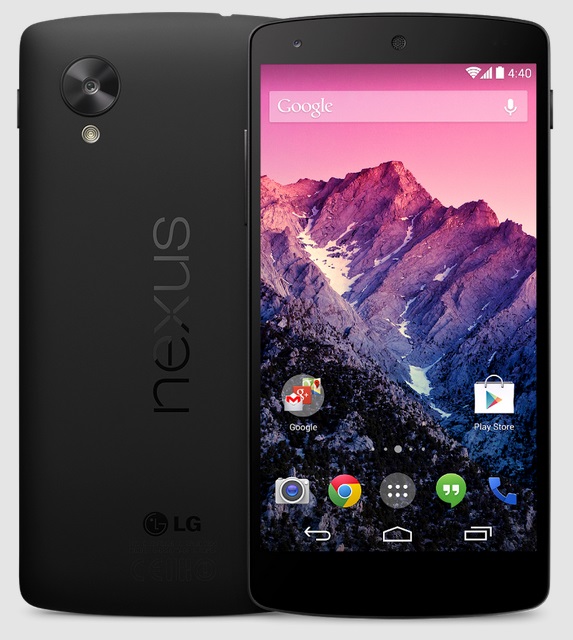 Nexus 5 is the first phone to get Android 4.4 KitKat. The factory images and binaries of Android 4.4 for other Nexus devices will be available online soon. Pity that Galaxy Nexus will not receive the official Android 4.4 update as its 18 months support period finished.
Android KitKat is a brilliant update from its predecessor Android 4.3 Jelly Bean. It comes with a lot of UI changes and improvements. Some of the settings has added. There is a detailed post about Android 4.4 KitKat features, updates and changes. SMS is now integrated with Hangout app, so your messaging is now unified.
Are you getting one Nexus 5 with Android 4.4 KitKat? Will you buy it from Google Play or buy it cheaper in Carphone Warehouse? Let us know in the comments below or in our Facebook page. Don't forget to like and share our page with your friends.