Clockworkmod Recovery know as CWM Recovery is a must have recovery for every supported Android device. You can install the official Clockworkmod Recovery 6.0.4.4 on your Google Nexus 5 smartphone easily. Only thing you need to have in your device is ROOT and unlocked bootloader. You already know why you need this and what CWM recovery does. I'm not responsible if anything happens to your device.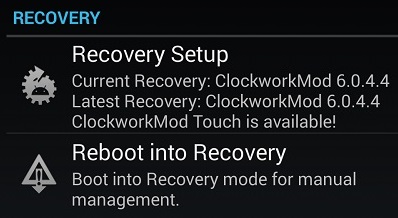 There is an app to root your Nexus 5 easily by Chainfire. This is the best way root your Nexus 5. I used it for my Nexus 5 and worked well without any problem. The latest clockworkmod recovery is 6.0.4.4 and the same version number is for the touch variant. If you follow this guide you will be able to install CWM recovery in your Nexus 5 easily. Remember this guide is not for the touch recovery.
How to install ClockworkMod Recovery?
The first thing you need is a Rooted Nexus 5 (Check this post to ROOT Nexus 5 quickly)
Open Play Store and search for "ROM Manager". The latest version of ROM Manager is 5.5.3.0
Install the ROM Manager app and open it
You will see the Recovery options at the beginning.
Click on "Recovery Setup" and select "ClockworkMod Recovery" under Install or update Recovery from next screen.
Confirm you phone model from the next screen. Touch "Google Nexus 5 – hammerhead"
This screen is to flash the recovery into your device. "Flash ClockworkMod Touch" is set to NO by default. If you want to install the touch recovery from the ROM Manager app, you need to do an in-app purchase. The payment options are PayPal, Android Market or Redeem Code. However, the ClockworkMod Touch recovery is available to install manually for free.
The last part is to select "Flash ClockworkMod Recovery" from the bottom. Now, the app will request Super User permission. You have to grant SU permission for ROM Manager to flash the custom recovery.
Once the CWM Recovery is installed, you can check it by choosing the option to reboot into recovery from the main screen of ROM Manager app. Success, if you are re-booted to ClockworkMod Recovery.
The most important thing you need to perform while you are in CWM recovery is, take a full Nandroid backup of Nexus 5. Once you have a full backup I'll suggest you to place a copy of your backup in a safe place on your PC / Laptop or in a backup device for future.