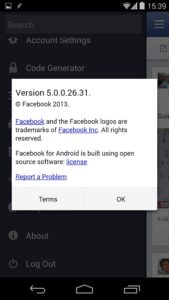 It was Christmas day when the last Facebook Android app was updated. It was Facebook version 4.0. Now, we got another update, dated 21 January 2014. Nearly a month later Facebook updated their Android app to version 5.0.0.26.31.
This is a major update over the 4.0 version. Now, you can keep up with your friends faster than ever. Facebook constantly updating their Android app. Giving us more feature and improvements while they are fighting with bugs.
What's New?
Facebook trying to give the mobile users more functionality. Gradually over time the Facebook for Android app got polished and enriching with new features. The following features are new in Facebook 5.0.0.26.31 for Android.
More efficient memory use
Now you can delete life events
Bug fixes
Don't want to wait for the official update? Don't have Google Play access? No problem, you can download the latest Facebook Android APK right from here. You can install the app easily just like another app. The file name is com.facebook.katana-1056414-v5.0.0.26.31.apk and the app sizes only 17.6 MB. Here is the Google Play link if you prefer to get it from the Play Store. This app should run on Android devices running Android 2.2 or up.
Update