Facebook so for android received another update in the Play Store. The new update Facebook 8.0.0.25.24 now available for all Facebook lovers with Android device. The update brought the app to a whole new level with a whole redesigned UI and universal search.

What's updated?
The app now uses a cool new UI (User Interface). It feels faster than before using on my Nexus 5. Top left side of the app now shows Name of the tab / page you are now. On the right side there are a search and chat button. The search button is always visible, letting you search anytime, anywhere within Facebook.
Status update, photo sharing and check-in, these three buttons came down. You will no longer find them at the top from this Facebook 8.0.0.25.24 app update.
You can swipe between the tabs for News Feed, Friend Requests, Messages, Notifications & More. The left side menu disappeared and moved it to the More tab along with your profile. There are plenty of things for you to explore in this new app.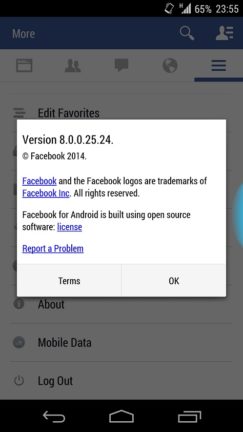 The earlier version Facebook 7.0.0.28.28 became available in 13th of March and was 18.86 MB in size. The app size changed to 19.59 MB in Facebook 8.0.0.25.24 for Android. The app size is getting bigger with the monthly stable updates.
Download Facebook 8.0.0.25.24
The latest Facebook app (APK) included here for you to download. The file name is com.facebook.katana-2097940-v8.0.0.25.24.apk. The APK is original and comes unmodified. This should update your existing app, and should not create any problem. If you prefer the official source, grab the updated app from Google Play store.
NB.: Don't forget to keep an eye on your data usage if you have limited data allowance. Enjoy Facebooking!!!