Is your Android phone running slow? How to speed up Android phone? There are few ways that you can speed up your phone. Android phones or tablets after been running for a while becomes bit slow and laggy. It builds cache files inside your phone over time and it can be a lot in the system memory. It runs with lot of background apps and services.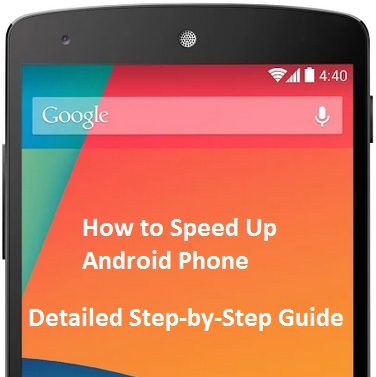 I'm using Android phones since the beginning with G1. We were thirsty for new mods and optimizations for our beloved phone. To optimize it more and get better performance.
I'll be talking about few ways on how to speed up Android phone in this article. You can apply these steps to Android running phones or tablets. Some of them might be working well for you and some not. I'm using these few steps to speed up my Android devices as well. If you apply some of the steps shown below you will be able to speed up your Android phone.
How to speed up Android phone?
1. Empty Cache
As I was saying over time your Android phone can build up a lot cache files. Mine gets more than 100 MB after few days of use. Your one can be different. But, the most important thing is to clean up cache from every apps. You can either use an app to clean all of your app cache or do it manually. This is one of the best way on how to speed up Android phone.
Go to Android Settings  > Apps. Then Swipe to see your All apps. Touch on every app you want to clean cache from. You will see the app details with different options along with cache size. Touch Clear cache, and it will be cleared and will give you back the occupied storage and speed.
2. Uninstall Unused Apps
More apps in your phone takes more storage thus affects your phone's speed. You can uninstall any app that you are not using. If you have more free system storage you get more speed. Sometimes sync stops working if you have low space on system partition.
You can use apps to uninstall unused and unwanted apps from your Android phone or tablet. Plenty of them are free and easy to use from Google Play. You can do it manually too, without any apps. Go to App info in the setting and select the app like you did above to clean cache. Select Uninstall from there.
You can keep a backup copy of your app if you the app sometimes. You can install it from there and after using the app, uninstall it.
3. Move Apps to SD
You can save some extra system space by moving the apps to SD. For this you need to go to Android settings > Apps / Applications. You can select apps you want to move to SD and just press the button. Some system apps will not have this option. And, some third-party apps might not work if you move them to your SD card.
4. Disable Animation
To do this you need to have Developers options enabled on your phone. If it is not on go to Android Settings > About. Scroll to the bottom and tap on Build number repeatedly turn on Developer options. You will see a small notification after it is unlocked. This means the options are now visible and you can edit them. Press the back button and you will see the new settings option around the bottom of the screen.

Go inside the Developer options and scroll down more than half until you see the Window animation scale option. There are 3 different animation scaling option available. It can be two in some phones. Window animation scale, Transition animation scale & Animator duration scale. Press them one by one and select Animation off. You will not see animation anymore but your device will run faster.
5. Remove Widgets
Rendering widgets on your home-screen affects the speed of your phone. Widgets are like apps running in the background. Doing all the updates and communication at the background and refreshes your screen with updated data. If you remove some widgets you can make your home-screen a bit tidy and speed up your phone or tablet.
Personally, I use a minimal amount of widgets in my home-screen, due to possible lags. Power Control is my favourite widget I always use it and a clock widget.
6. Custom Launcher
The Android default launcher is bit laggy and slow sometimes. There are plenty of custom launcher in the Play Store. Nova Launcher or GO Launcher are the top ones. Some of them are really fast and gives you a lot of option to customize more. Try some and use them as default launcher, you will love it.
7. Kill Running Apps & Services
There are apps for this and the other option, you can do it manually. Similar way to the application settings and finding the running apps. You can press Force stop to kill the unnecessary apps and services and brings you up some speed.
8. Disable Sync
Disabling sync saves your CPU and your data use. It disables the services running the in background. If you are on PAYG you should keep is disabled not to pay a lot of money for the internet being used at the background.
To disable sync
9. Use Static Wallpaper
Live wallpaper is unique in Android & consumes a lot of resources in your phone. Switching it off and using a regular wallpaper is more advisable. Phones with slower processing power and RAM can not run the live wallpaper properly. Unless you are bothered about the speed increase, you should know it consumes more battery as well.
10. ROOT Your Phone
You will lose your warranty if you root your phone. But you will get super-control over your phone and run apps and scripts which needs administrative permissions. You can use terminal emulator, run busybox commands, change the CPU frequency or use a custom Kernel. This will enable you to flash custom ROM, MOD or patch through a custom recovery or via ADB.
11. Go Custom
Use custom ROMs which comes with various speed optimizations and custom MODs. Some of them provide better performance and security. There are plenty of patches for your Android device as well. Nexus and AOSP users can get more speed with this optimization patch.
Developers port special features from different phones or ROMs and make flashable zip files. Sometimes they offer patches to any security issues before Google does.
Flashing a custom ROM helps and this is another way how you can speed up your phone. Custom ROMs offer performance improvements and optimizations built in. You don't need to look anymore to how to speed up Android phone. Custom ROMs are better than the stock ROM what comes with the phone or tablet.
12. Apps
There are some apps in Play Store which offers speed increase, memory increase and various optimization. They are easy to use and most of them comes free. Some of them are Memory Booster, RAM Manager, we talked about App Cache Cleaner in an earlier post. However the paid version of the apps offers some extras and they come ad free.
If you follow all the steps above you will get a speedier phone than what you were using minutes ago. These are the steps on "How to Speed up Android phone" above. There might be more that you can do to speed up your phone. If you have any more tips you are welcome to share with us.