As we have seen all the leaks and rumours, Google just made it official. Nexus 5 now available in bright red color. We already posted a leak earlier about Red Nexus 5 incoming in the USA. Now it is available not only in the USA, UK as well. Hoping this release might be worldwide.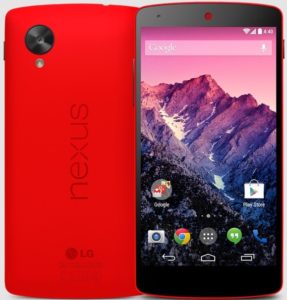 Google listed the 3rd available color (Red) for Nexus 5 this evening here in the UK. The price and specs remain the same. The bright red color was added in the body and back. The front is still black as seen on the white one.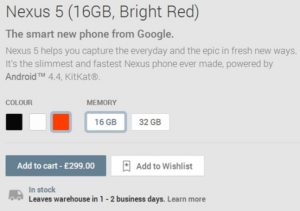 The red Nexus 5 now in stock and £299 for the 16 GB one and £339 for the 32 GB one. This is the first Nexus to get a red color. And, somehow it looks nice on the phone. For the quick specs, Nexus 5 comes with 5″ HD IPS display, 2.26 GHz quad-core processor, 2GB RAM and 8 MP main camera. The 2,300 mAh battery keeps it up for a longer amount of time.
If you are interested have a look at the Android 4.4 KitKat running Nexus 5 bright Red in the Play store (link). Let us know if you like it.