Google Translate app for Android is a great app to overcome your language barriers. The app updated today to version 3.0.5 with some bug fixes and more languages. You can download the latest Google translate app for your Android devices from the bottom of the post.

Google translate now available in about 80 languages. The Android app can translate from 4 different input methods. You can wither type, write, draw or take a picture of the unknown language to translate. The app also produces brilliant translated voice output.
You can even use the Google translate service offline while travelling other countries. All you need to do is, go to Settings > Manage offline languages in Google translate app for Android.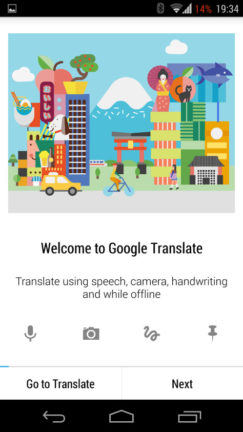 SMS translation is another great service from Google translate app. If you click on the option it will show you list of your SMS. Just select the one you want to translate and choose the language.
Download Google Translate App
The latest version Google translate app for Android is 3.0.5, updated 12 March, 2014. The apk is small and sizes only 3.34 MB. You can consider this app as the best translator for Android. You can download the Google Translate APK from MediaFire mirror. If you prefer from official source follow the Google Play direct ink.
If you are interested, you can check the Google Android Apps Collection.