Android L, the biggest ever update for smartphone and tablet Operating System Android. Announced on Google I/O 2014. Android L comes with a lot of improvements and with new Material design. Google has been materialising their main apps over time and making it their standard.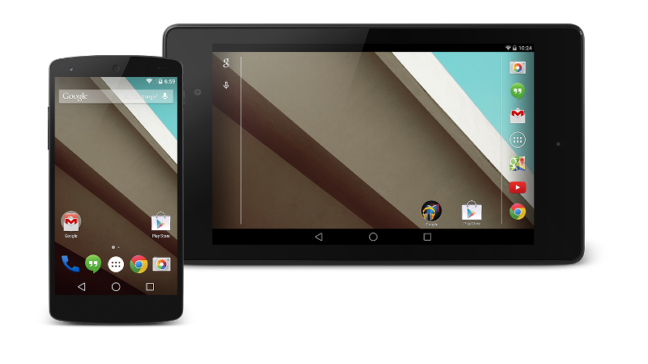 Android L Features
Material Design & User Interface (UI)
The design and UI is totally different from Android KitKat or other versions. Google materialized the Android design and used simple colors. To know more about Material Design follow this link http://developer.android.com/preview/material/index.html.
The interface is much easier and responsive to use now. Much more interactive now with cool animation and more transparency.
Re-branded Dialler, Notification Bar and Settings
There is major change in Dialler, Settings and over the notification bar. Dialler app got a re-branding and faster UI. The Settings menu is now categorized with simple icons. To access quick settings from the notification bar, you need to pull it down twice. First time it shows any active notification and weather information. If there is no new notification, it'll show only weather. Quick and fast way to glance at your simple weather data. Tapping it will open Google Now and will show you details weather information.
New Lock Screen & Notifications
The Lock Screen is much neater and has 3 buttons. If you pull up you can unlock the screen, but if you swipe it to the right, you unlock the Dialler app. If you swipe left, starts the camera.
You can see your pending notifications in the lock screen. Tap twice to read / view, or swipe right side to drop the notification.
New Recents Screen
Another addition to Android L is the Recents screen. All the used apps or games now shows as individual cards and much faster to scroll through.
Default ART Runtime
Google introduced ART runtime library with Android 4.4 as an optional library with Dalvik cache. Android L coming with default ART which will support new 64-bit processors and compatibility with Intel x86 based processors.
Increased Security
Android L will encrypt data by default for the first time, Washington Post reports. "encryption happens automatically; only somebody who enters a device's password will be able to see the pictures, videos and communications stored on those smartphones." This will block anyone to get access to your device and personal data. They are safe with you.
Overall Performance
The overall performance has increased with L. Specially, for gaming, audio, video etc.  Battery performance has increased by ~30-40% than earlier versions of Android.
Release Date
The Developer preview is available to download and test on Nexus 5 and Nexus 7. The announcement is rumoured to be within a week before end of October 2014.