Galaxy Tab Pro 12.2 is an amazing big screen tablet from Samsung. Along with a large 2560×1600 resolution display it is stuffed with 3 GB RAM, 8-core processor, 32 GB internal storage along with a microSD slot. The tablet is fast and responsive but comes with a lot of bloat-ware. You can not remove them or uninstall them if your tablet is not rooted. I am using this tablet from last year with stock Android 4.4.2 (KitKat) that was shipped with the tab. I felt the device is not using all the resources and not delivering enough performance as it is capable of. I even wrote a small post on How-to make Samsung Galaxy Tab PRO 12.2 Fast. On top of that Samsung hasn't updated the firmware to Lollipop yet and Android M preview version is knocking at the door. Using a custom or AOSP ROM provides better performance in most of the case and lets you upgrade your firmware to the latest version. Hence, I decided to root my Galaxy Tab Pro 12.2 and use a custom Android 5.0.2 (Lollipop) ROM. I did it successfully without any problem, I'm sharing my experience on how I did it.
NOTE: I'm not responsible if anything goes wrong. Follow the instructions carefully.
Prepare the tablet and download necessary files
Proper USB drivers installed (Samsung Kies or Universal Naked Drivers)
Enable USB Debugging from Developer Options
Battery is charged (50% or more)
Download Chainfire's auto-root pack: CF-Auto-Root-v2wifi-v2wifixx-smt900.zip and extract them inside a new folder. You will find CF-Auto-Root-v2wifi-v2wifixx-smt900.tar.md5, Odin3.ini, Odin3-v3.07.exe, tmax.dll, zlib.dll files in there.
5 Steps to root Galaxy Tab Pro 12.2 successfully
Step 1: Boot your Tab Pro 12.2 into Download mode. To do this power off your tablet first. Press Volume Down + Home + Power button. On the warning screen press Volume Up key to enter.
Step 2: Open Odin3-v3.07.exe (this is the software which will root your tablet). Follow the next steps carefully. Not following steps properly might brick your tablet.

Step 3: Connect your Galaxy Tab Pro 12.2 via USB cable to PC or laptop. You will notice there is a COM port showing up on Odin 3 in blue and says added!! in the message section. If not check if you have the correct drivers installed and USB connection. Do not proceed to the next step if you don't see any COM port detected.
Step 4: Click on PDA, then select CF-Auto-Root-v2wifi-v2wifixx-smt900.tar.md5. (Don't select anything else)
Step 5: Press Start button (it will root the tablet and restart). Once done Odin will show "PASS" on the top-left corner above COM port.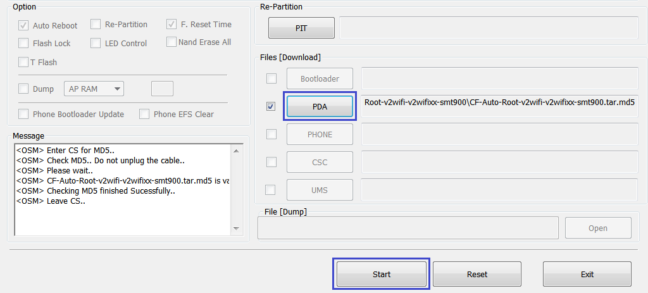 Your tablet should now be rooted and SuperSU app should be installed. If you can't find the app, just download and install SuperSU from Play Store. Also you can use the root checker app from play store to check root status.
Next coming up: How to install Android 5.0.2 Lollipop on Galaxy Tab Pro 12.2 & How to install Ubuntu/Linux on Tab Pro 12.2.