UK buyers can now order Motorola Moto X for a very low price. Clove Technology started selling the mid-priced high-end phone Moto X for £299 + shipping. This includes VAT. Clove is doing this £30 off than their regular price. Other retailers are selling this phone for about £90 more.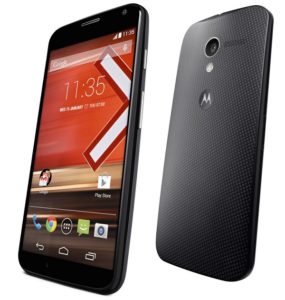 Clove will start shipping Moto X from 3rd of February. There was a firmware update to Android 4.4 after the phones came to UK. So, all the phones will be shipped with KitKat running it it. The product code is MOT-MOTOX which you can use in Clove.co.uk site to find the phone. There is no mains charger in the box. Comes with only a USB cable, documentation booklet and the phone.
Motorola, as a Google company made two great phones. Moto X and Moto G. They both are very nice phone and amazingly cheap. After taking a huge loss, Google now selling Motorola to Lenovo. The future phones will come from them. I'm kind of excited to see what they both brings out.
The white Moto X still exclusive to Phones4U for few more months. But if you are looking for a black Moto X, you should get it from Clove. As this is the cheapest price available in the UK. Customer who pre-ordered the phone earlier will be refunded the extra money. The price will be ongoing and Motorola distribution has allowed Clove Technology to sell the Moto X at reduced price.
[
Source
]