Facebook for Android updated again on 13 Feb 2014. This time not any incremental or small update. This update brought the version to Facebook 6.0. Facebook didn't list anything what is updated. Instead, they are saying "Bug Fixes" in the What's New section.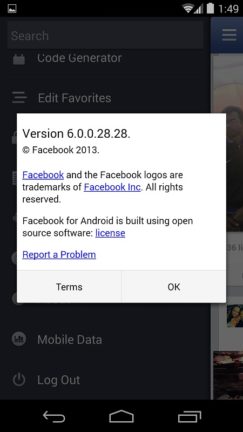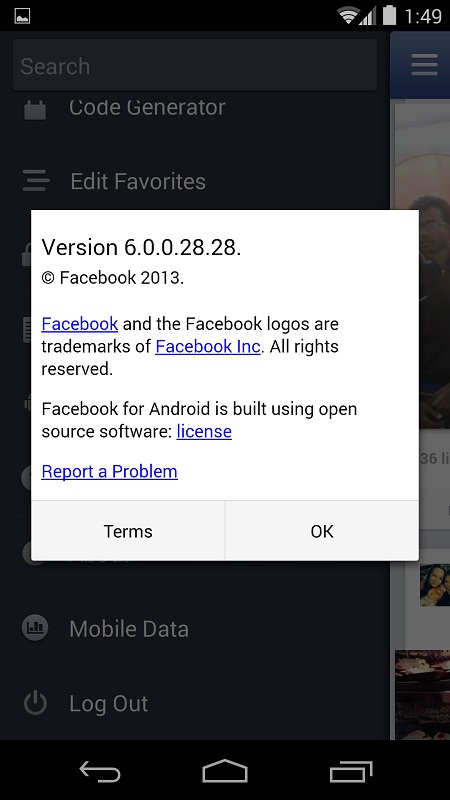 In this update Facebook added a new option at the bottom of left slide-out menu. They added "Mobile Data" option to let you see how much data you are using. The option doesn't come built-in with the app. You need to install it separately.
If you click on the option it will show you a page to install Onavo Count. An app by Onavo, available in Google Play store. The app sizes only 4 MB and gives you detailed info about your mobile data. And help you saving your data usage.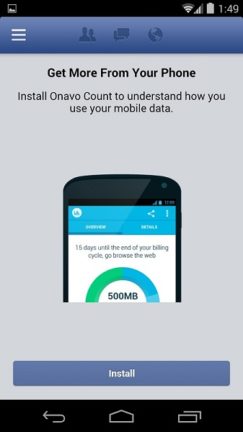 This is the only difference I could figure out. If you find anything else new feel free to share it with us in the comment.
Three weeks ago we got the last update, Facebook 5.0.0.26.31. And the previous version was Facebook 4.0, which released on Christmas day. Facebook now pushing new updates weekly.
Download Facebook 6.0
You can download the Facebook 6.0.0.28.28 APK file from this Mediafire link. The official Play store link is here. The app size is 17.94 MB and the APK file name is com.facebook.katana-1264002-v6.0.0.28.28.apk.
The Facebook 6.0 APK was pulled from my Nexus 5. Should work with compatible devices. Just install it like any other APK. If it doesn't  work, try uninstalling the current version and then install. It is better to use the updated apps for security and bug-fixes. Happy social networking on the go.
Update