Facebook updated their Android app to version 7.0.0.22.28 on 13 March 2014 again. The earlier update was to version 6.0.0.28.28 which released a month ago. Facebook 7.0.0.22.28 APK file for Android included at the bottom of the post for you to download. The app has 3.9 overall rating in Google Play Store.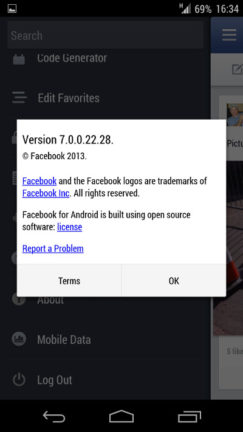 Updates are always good for our devices. They brings us more performance improvements, more security, bug fixes, new features or new design. Facebook been updating their app constantly as we said before. And, bringing more features and improvements.
What's new on Facebook 7.0.0.22.28?
Now you have the option to upload multiple photos at the same time in a group. You no longer need to add them one by one. And, improvements to help group admins pin and unpin posts, and review pending and reported posts.
Download
Update: Facebook 34.0.0.0.0
You can download Facebook 7.0.0.22.28 APK for your Android device from this Media Fire mirror. The file name is com.facebook.katana-1640360-v7.0.0.22.28.apk and file size is 18.86 MB. This app is bit bigger than the earlier version. If you prefer to download and install from official source, follow the Google Play download link.
The installation of Facebook app in your Android device should be easy. And, shouldn't create any problem. If you are having difficulties on installing, try uninstalling the installed app first. In most cases, this works fine. Don't forget to like our Facebook page to receive and share updates.